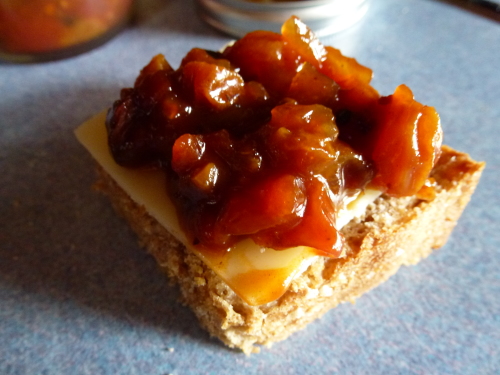 We recently made this chutney for our reception at the Herb Harvest Fall Festival at the Ozark Folk Center featuring foods of the British Isles-it was my favorite recipe of the evening. The members of the Ozark Unit of the HSA prepared all of the foods after researching through many cookbooks and this recipe is adapted from a recipe from The Irish Pub Cookbook by Margaret M. Johnson. If you are looking for tasty and traditional Irish recipes, Margaret Johnson has a number of good books to choose from.
Chutney is served often in the British Isles–it accompanies the ploughman's lunch, sandwiches, meats and fowl and is wonderful with cheese and soda bread–tomato is the most popular and my personal favorite chutney. This is easily prepared, so if you have any leftover, homegrown tomatoes (they don't have to be plum) this is a great way to preserve the harvest.
For the chutney:
Makes about 2 cups
2/3 cup honey
1 1/2 cups apple cider vinegar
2 teaspoons sea salt
2 teaspoons freshly grated ginger or 1 teaspoon dried, ground ginger
1 teaspoon mustard seeds
Scant 1 teaspoon crushed cardamom seeds
Scant 1/4 teaspoon ground cloves
1 teaspoon minced thyme, or 2 bay leaves
1 1/2 to 2 pounds plum tomatoes, quartered
1  to 1 1/4 cups chopped onion
About 8 to 10 cloves garlic, minced
1 hot chile pepper (serrano, Thai, jalapeno), stemmed, seeded and minced
Generous 1/2 cup golden raisins, regular raisins or currants
Freshly ground pepper
1 1/2 tablespoons olive oil
In a large saucepan, combine the honey, vinegar, salt, ginger, mustard, cardamom, cloves and thyme or bay and place over medium heat. Stirring, bring the mixture to a simmer. Add the tomatoes, onion, garlic, chile pepper, raisins, ground pepper and oil; stir well to combine. Reduce the heat so that the ingredients cook at a simmer, uncovered. Cook for about 1 hour, stirring often, until the mixture has thickened.
Once the mixture begins to cook, the tomato skins will curl up and can be removed with a fork as you stir the chutney. At the end of cooking, remove the bay leaves, if used. Transfer the chutney into a clean jar and cover; it can be refrigerated for up a few weeks.
Alternatively, the chutney can be frozen in freezer containers with 1-inch headspace or processed in a pressure canner or hot water bath according to manufacturer's directions for tomato sauce.