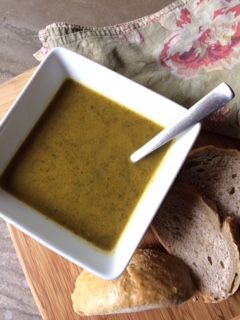 There are so many wonderful things about spring–and it delights me to have fresh, mineral-rich and vitamin-laden green herbs pop up for us to bring into the kitchen and make those seasonal dishes that we can't have the rest of the year. Nettles are a favorite of mine, and while I quite savor a nettle spanakopita and a salsa verde made with nettle, chickweed, dandelion, and sorrel or oxalis–nettle soup is a great comfort food besides being a spring tonic. 
Instrcutions for Making Soup:
I do not adhere to a strict recipe–I use what I have on hand or what I feel like. Start with a knob of unsalted butter and a few tablespoons of olive oil in a heavy-bottomed soup pot. Heat over medium heat and add a chopped onion or 2 chopped leeks and saute for a few minutes.
Add 2 to 3 medium-size potatoes, chopped. Stir and saute a few minutes and add 2 stalks celery and 2 carrots, chopped. Stir, cover and sweat for a few minutes.
This last soup that I made, I had some steamed golden beets, so I chopped a large one and added it to the pot (I never did this before however it was quite nice).
I usually add a fresh bayleaf to most soups and I used about 5 or 6 cloves of minced garlic and a couple teaspoons of seaweed flakes. Stir the contents of the pot and add about 6 cups of vegetable stock, cover and bring just to a boil; reduce heat and simmer for about 15 minutes until veggies are tender.
Add 4 to 6 cups nettles leaves, cover and wilt them for a few minutes. Taste for seasoning and add sea salt and freshly ground pepper to taste, along with a pinch or two of cayenne pepper and perhaps 6 or 8 drops of bitters.
Stir well, adjust seasoning if necessary and serve as is, or puree part or all of the soup with a immersion (stick) blender. I prefer to have at least half to three-quarters of the soup pureed. Serve hot; it is quite good made in advance.
An option is to add 1 cup of whipping cream to the soup when blending it; it makes for a rich soup. If you don't have nettles, try some other mixed spring greens from the garden: chickweed, dandelion, sorrel, spinach, chard or cress.
Enjoy a lovely bowl of spring soup soon!