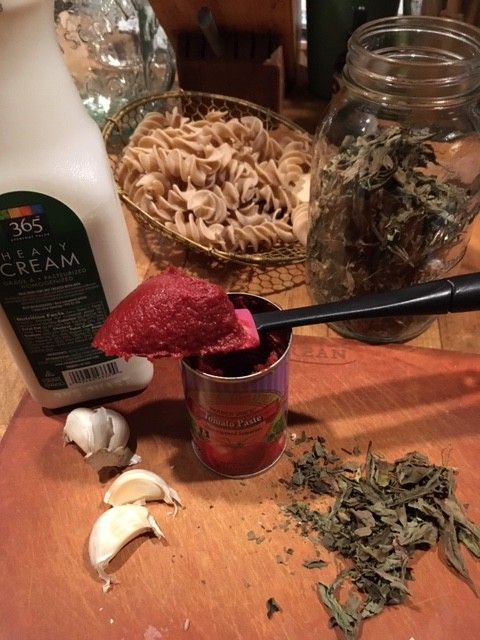 This is the time of year when we want to nestle in and stay at home and eat warming comfort foods. At our house we eat lots of soups and stews, beans and rice, grains and pasta–stick to your ribs kinda food–for those of us who are choppin' and haulin' wood, stoking the woodstove and shoveling snow!
This pasta sauce first appeared in Gourmet Magazine in an herb series, which I co-authored with Carolyn Dille called "A Calendar of Herbs" in 1980! It has been prepared countless times and with many variations and still remains a family favorite. 
The sauce can be made in the time it takes to bring the water to the boil and cook the pasta. The recipe makes enough for 4 servings of pasta and is easily doubled or tripled. Sometimes I toss in some steamed vegetables or sauteed mushrooms. Mostly I serve a green veggie on the side or a salad. It can also be made ahead and tossed with pasta and be reheated or baked like mac & cheese; you will need to add a little more milk to these two variations.
Tomato Basil Cream Sauce
This is a quick, winter busy day sauce; it can be prepared while the pasta is cooking. It uses fruits of our garden harvest that we put up for just these times–garden dried basil or preserved basil, garlic and dried chiles. It is good with any kind of noodles that hold the sauce: whole-wheat tagliarini, tagliatelle or penne, as well as fresh ravioli and tortellini. Whether you use half-and-half or whipping cream will depend on how a rich a sauce you like; whole milk can be used, however it will be a thinner sauce. This has always been a family favorite, the kids especially liked it and would request it.
Makes about 3 1/2 cups
6 ounce can tomato paste, preferably organic
About 3 cups half-and-half, or part heavy cream or whole milk
Small handful dried basil leaves, crumbled (probably 1 to 2 tablespoons dried crumbled basil leaves) or about 2 generous tablespoons preserved basil in oil
2 to 3 large garlic cloves, minced or pressed
Salt and freshly ground pepper
About 3/4 cup freshly grated Parmesan cheese
Dried, hot red pepper flakes, optional
Mix the tomato paste, half-and-half, basil and garlic together in a saucepan over low heat; whisk or stir well. Bring to barely simmer over very low heat for 8 to 10 minutes; taste and season lightly with salt and fresh ground pepper–add a little more basil if desired. Stir in about half of the parmesan.
Taste for seasoning and serve over hot pasta and sprinkle with grated Parmesan. Pass the hot pepper flakes.
Buon appetito!