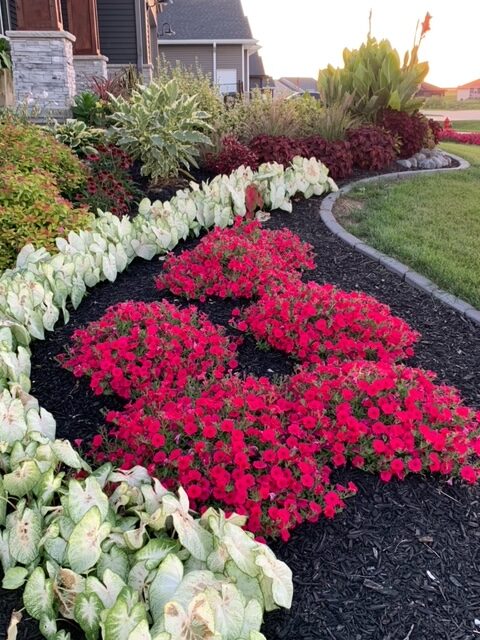 Today we are seeing photos of Ray Jones's garden.
My garden is on new construction. This was a pasture a few years ago and is in Palo, Iowa, Zone 4b/5a. I grow a mix of perennials, tropicals, and annuals. Much of the yard is still in process.
My favorites this year were the petunias 'Vista Fuschia' and 'Vista Paradise' (Zones 10–11 or as annuals). People stop and take pictures of the front of the house.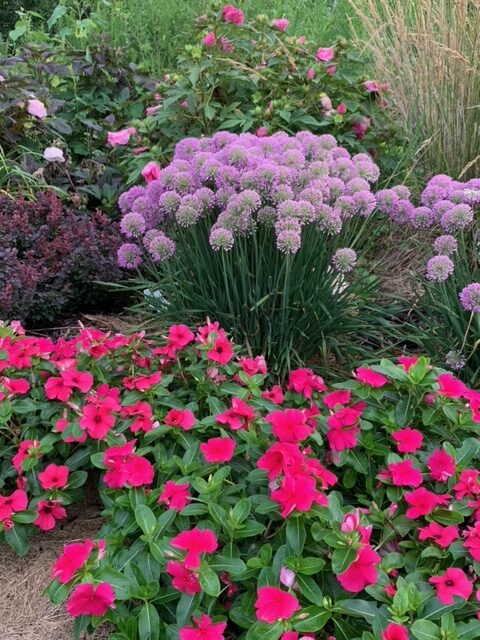 This is one of the allium hybrids, either 'Millenium' or the very similar 'Serendipity' (both Zones 4–8). Unlike the spring-blooming bulbous alliums, which flower and then go dormant, this is one of the summer-blooming rhizomatous alliums, which flower heavily and have foliage that stays green and attractive the whole growing season. In front, masses of bright annual vinca (Catharanthus roseus, Zones 10–11 or as an annual) bloom.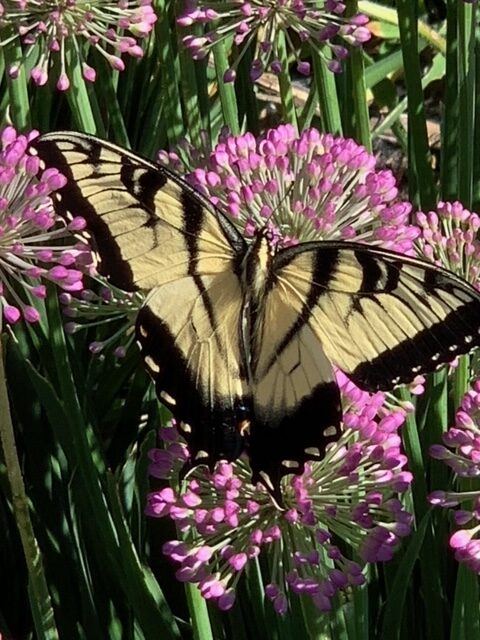 This swallowtail butterfly is a big fan of the allium blooms as well.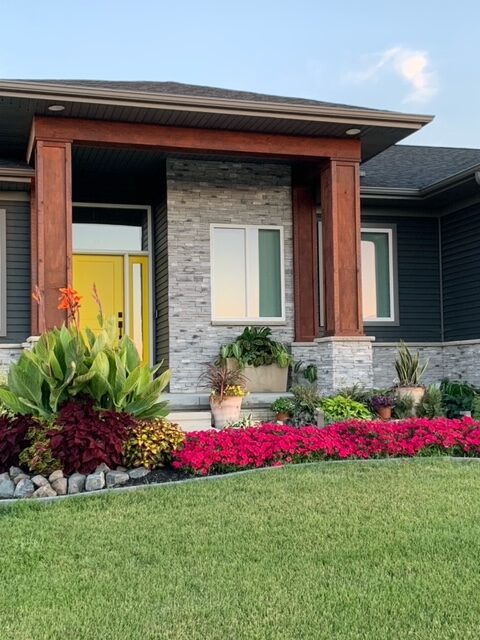 The front of the house includes a blaze of color from the petunias. You can see why this planting is literally stopping traffic!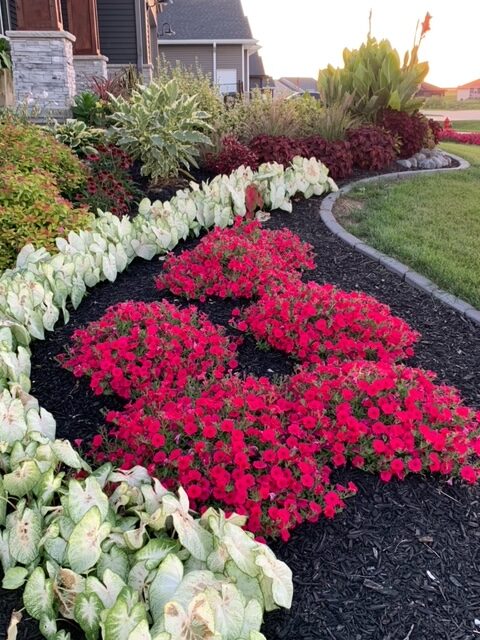 Behind the masses of brilliant petunias is a row of caladiums (Caladium hybrid, Zones 9–11 or as tender bulbs) with nearly entirely white leaves. Caladiums are often recommended for shade, but they can grow in more sun, especially if temperatures are cooler and they have plenty of water.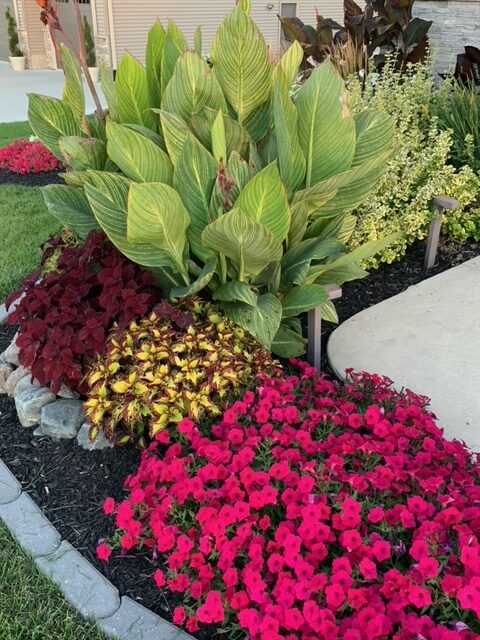 Behind the blaze of petunias, a tall canna (Canna hybrid, Zones 7–11 or as a tender bulb) with bright yellow-striped foliage adds more color to the planting.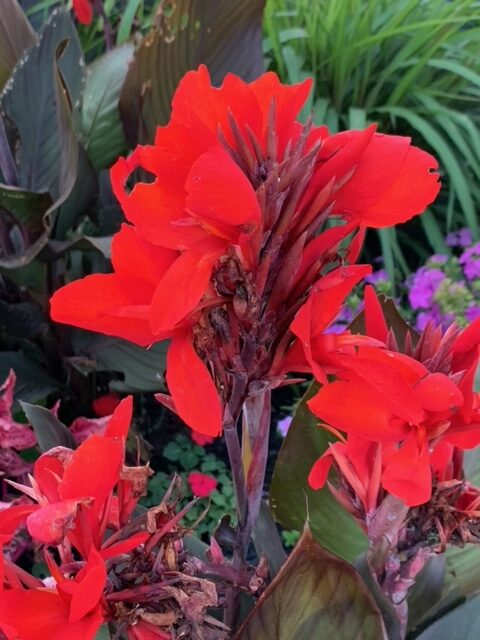 Cannas don't just have colorful foliage; they have beautiful flowers as well.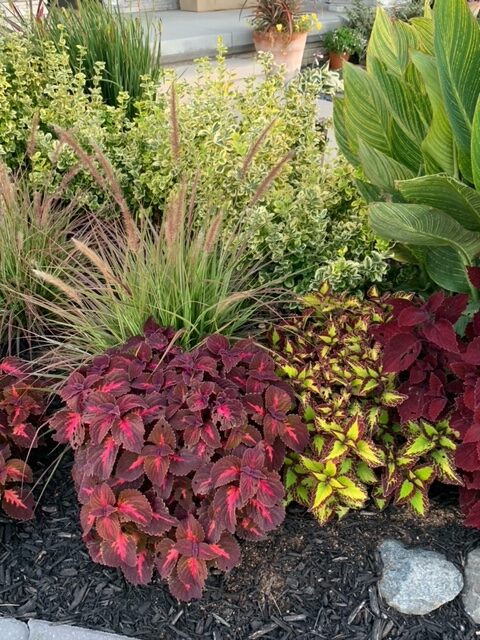 Coleus (Plectranthus scutellarioides, Zones 10–11 or as an annual) is the king of colorful foliage, with varieties that will thrive in sun or shade.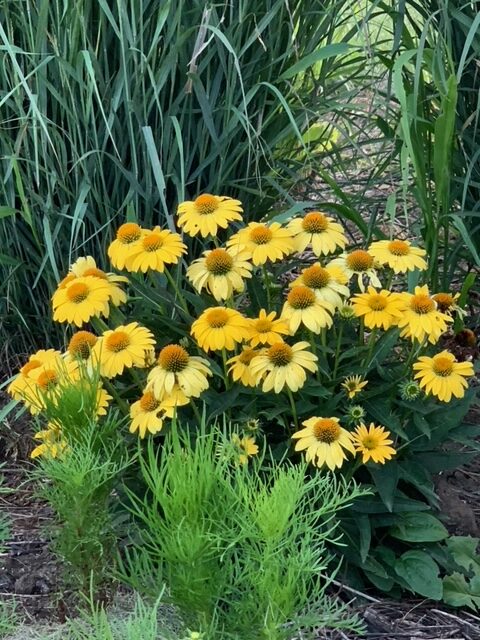 A bright yellow coneflower (Echinacea hybrid, Zones 4–9)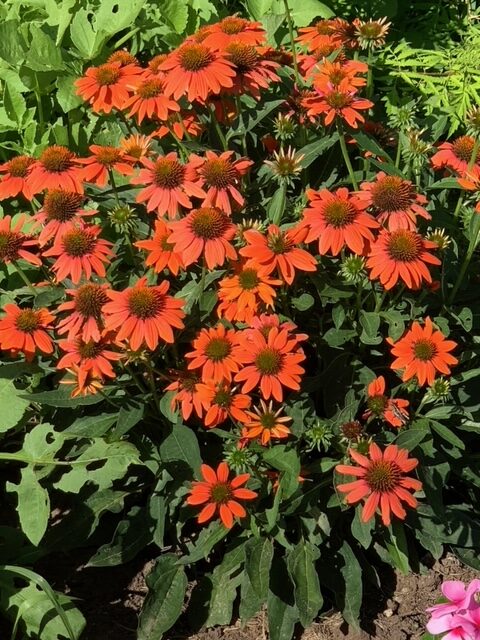 And a coneflower in brilliant orange. The early colorful coneflower hybrids were beautiful but tended not to last long in the garden. The newer breeding has produced better garden plants that are more reliably perennial and that flower like crazy.
Have a garden you'd like to share?
Have photos to share? We'd love to see your garden, a particular collection of plants you love, or a wonderful garden you had the chance to visit!
To submit, send 5-10 photos to [email protected] along with some information about the plants in the pictures and where you took the photos. We'd love to hear where you are located, how long you've been gardening, successes you are proud of, failures you learned from, hopes for the future, favorite plants, or funny stories from your garden.
Have a mobile phone? Tag your photos on Facebook, Instagram or Twitter with #FineGardening!
Do you receive the GPOD by email yet? Sign up here.