I can't remember how many trowels I've owned/broken over the years. I have an unmatched ability to shorten the life of any gardening implement used for digging. In my defense, one of those many trowels met its fate by being run over by a car (it's a long story, don't ask). But several others broke from bad construction or a flawed design. And it seems that I am not alone in always buying the wrong tools. At Fine Gardening, we get many letters asking for advice on the best pruners or a handsaw that won't need sharpening after every use.
In order to enlighten our readers—and ourselves—we reached out to a gaggle of experts, from landscapers to designers to gardeners who have 50 years of experience, to find out what is in their toolsheds. The following is an array of implements that these gardening rock stars cannot live without—so maybe you shouldn't, either.
Hand trucks are a must-have for heavy moving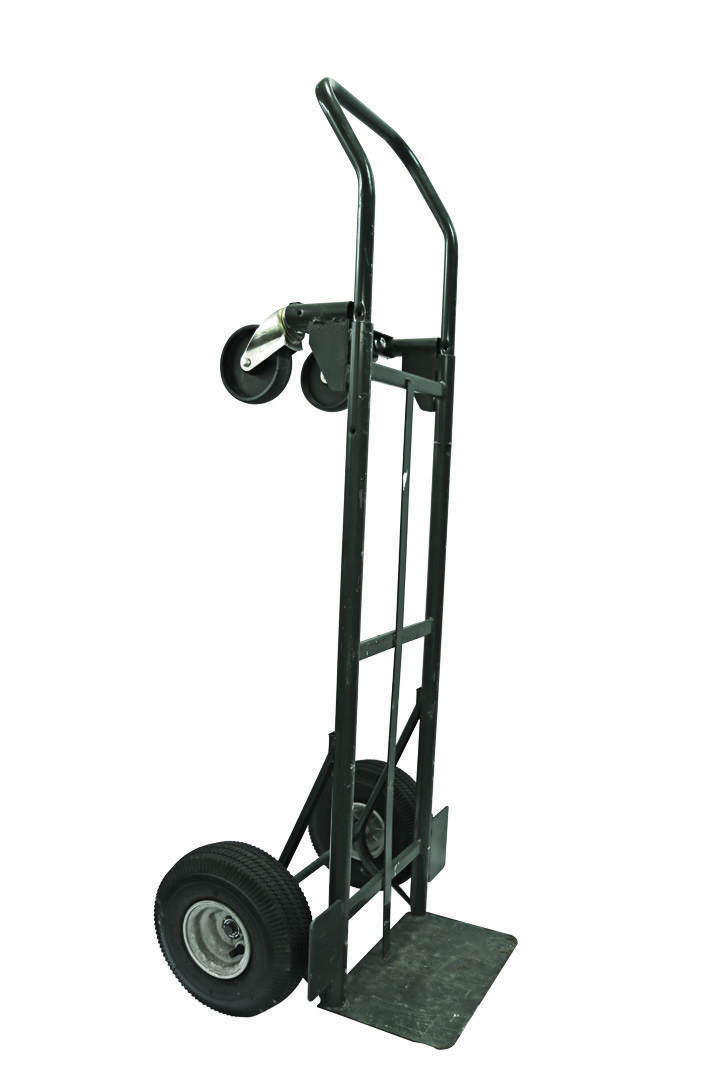 Although long a staple of moving companies and grocery-store restockers, the hand truck might be the new best friend of gardeners. When it comes to hauling bags of soil or compost, large pots, or even a rogue paving stone or two, a hand truck can save your sanity and your back. They come in a range of sizes and prices (Harper Super Steel 700lb Platform Hand Truck, pictured), but regardless of the brand, a good one needs a steel frame for strength and inflatable tires for easy rolling across the lawn or up and down steps.
"An old, stiff piece of carpet or thick cardboard placed between the hand-truck frame and any pots you might move will help provide a cushion. A bungee cord will also help secure objects while transporting them."
­—Jason Reeves
Price: $136.54
Source: Webstaurant Store; webstaurantstore.com
This digger is great for almost anything
The Short-Handled Ho-Mi Digger was first developed in the Bronze Age in what is now Korea. It is hand forged from steel, making it super strong but extremely lightweight. The unique shape allows you to do a multitude of gardening tasks, from weeding to digging rows for planting seeds. Watch out when handling, though, because that blade is razor sharp.
"This is a tool that digs, plants, weeds, cuts, makes a row, backfills, and looks like a deadly ninja weapon."­ 
—Susan Calhoun
Price: $19.90
Source: Lee Valley Tools; leevalley.com
For smaller jobs, try the mini shovel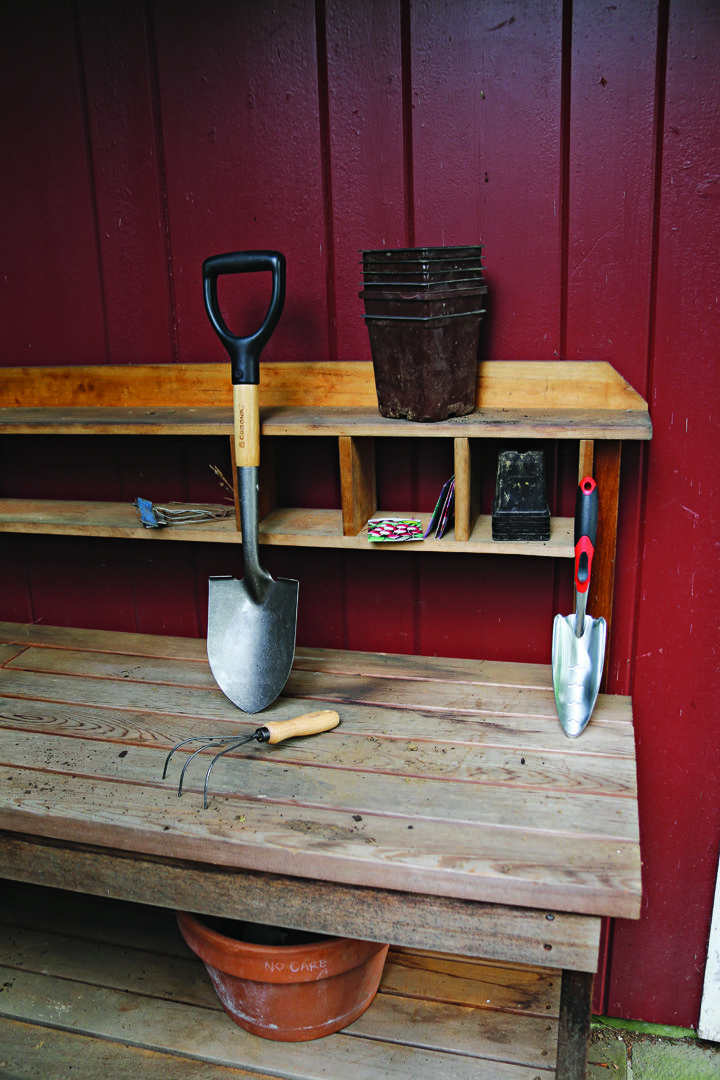 When you first see this tiny tool, you might have to stifle a snicker. But once you get over the shock of the Corona Multi-Purpose Mini Shovel, you'll start imagining all the things it would be good for—planting in small spaces, to name one. It looks like the offspring of a full-size shovel and a trowel. The wooden handle, made of ash, and the tempered steel blade make it stronger than it
appears as well.
"The 'girl shovel' is what my contractors call it. So many of them ask to borrow it when installing irrigation or in tight spots. I buy one, paint it pink, and then tell them I'll give them one if they'll use the pink version. They laugh and laugh, but every time I see them on jobs, these huge guys still have their little pink girl shovel."
—Stacie Crooks
Price: $13.90
Source: Corona Tools; coronatoolsusa.com
You'll never regret buying this trowel
The only tool gardeners replace more often than gloves is the invaluable trowel. They bend, they break, the spade end separates from the wooden handle—it's the rare trowel that makes it past a few seasons. The Corona eGrip Trowel may just be the last tool of its kind that you have to buy. The cast aluminum spade is molded to the handle as one piece, so no bending or breaking will occur. The handle itself is covered in a cushioned rubber for better gripping and comfort, and its slight arch is designed to be better for your joints—truly a blessing during fall bulb planting.
"The ergonomic handle is so soft and it never bends, even when you seriously crank on it. It also has measurements engraved on it for planting bulbs."  —Stacie Crooks
Price: $8.52
Source: Corona Tools; coronatoolsusa.com
Need a weeder that won't quit? Try a spring tine cultivator
At first glance, this delicate hand tool looks a lot like a back scratcher. Its real purpose is far more ruthless, however. The thin wires of the DeWit Spring Tine Cultivator (photo above) glide through soil, gently but effectively pulling out weeds as they go. It's extremely lightweight yet well made out of steel and wood. This type of tool is sometimes called a "scratch cultivator" by the Dutch, who are responsible for its design. If ever there was a tool that you'd pass down to your grandkids as an heirloom piece, this would be it.
"This is my all-time favorite tool. It's sometimes hard to find but invaluable for weeding. The wires pull through the dirt and dislodge roots but don't disturb the soil. Hands-down cool."
—Stacie Crooks
Price: $23.99
Source: Amazon.com
An indestructible shovel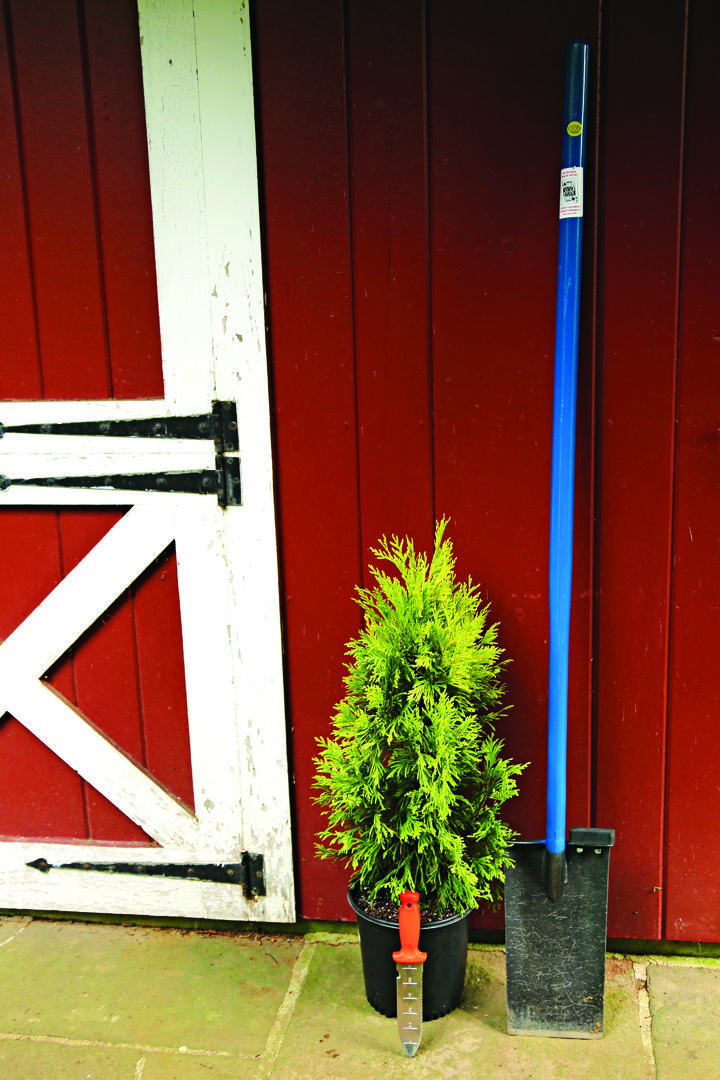 Whether you're planting a shrub or prying out a boulder, the King of Spades All Steel Nursery Spade is the only tool you'll need, according to several of our experts. This line of shovels comes in an array of blade and handle sizes/styles (13-inch blade, 54-inch handle, pictured), but all are made of aircraft-quality tubing with heavy steel blades. Be sure to add on
a handy-dandy rubber foot-pad attachment for
easier digging.
"I can't remember how many times I have broken wooden-handled shovels. This baby refuses to break, and I use it all the time. Its long blade cuts deeper into the soil than other spades, yielding a larger root ball, which results in less transplant shock."
— Andy Brand
Price: $114.99
Source: A.M. Leonard; amleo.com
A soil knife is an unconventional yet invaluable tool
For anyone who has ever committed the sin of using pruners to quickly dig out a weed or cut through the roots of a plant, please invest in the A.M. Leonard Deluxe Stainless Steel Soil Knife (in photo above). Use it to plant small transplants and bulbs, slice through dense roots, and even cut twine. The wide, rubberized handle makes the knife easy to grip. Buying this tool might add years to your pruners, too.
"I always keep this tool right next to my pruners on my belt—it is indispensable for weeding with its serrated edge. I also use this knife to plant small perennials, and it comes in handy when teasing roots apart prior to planting container-grown material."
—Andy Brand
Price: $22.49
Source: A.M. Leonard; amleo.com
Avoid electrocution and fumes with a battery-powered hedge trimmer

Even if you don't have a formal boxwood hedge, you need a trimmer. Fall clean-up goes twice as fast when you can use a power trimmer to cut back clumping perennials, as opposed to using pruners to painstakingly cut a handful at a time. The Black & Decker 40-Volt Cordless Hedge Trimmer is a great choice because you won't have to drag around a long extension cord or worry about filling/maintaining a gas engine. Be warned: The battery is sold separately with this model, but a charge lasts surprisingly long—6,000 square feet trimmed per charge.
"You wouldn't want to use this for pruning your 500-foot privacy hedge, but it's great for smaller jobs. It will make quick work of cutting back clumps of ornamental grasses or Siberian iris or of sculpting topiary, if that's your thing."
—Jason Reeves
Price: $61.78 (battery not included)
Source: Lowes; lowes.com
These pruners are perfect for lefties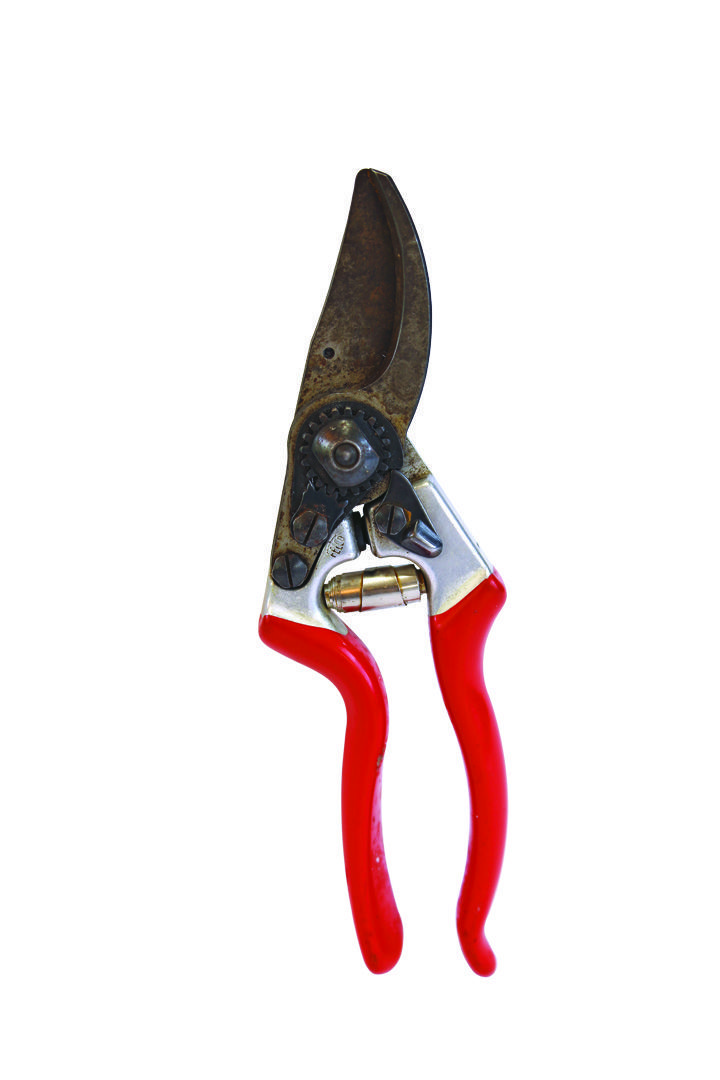 This brand of pruners has long been the industry standard—and for good reason. The blades are made of high-quality steel, while the rubber-coated aluminum handles are lightweight and easy to grip. Several experts sang the praises of Felcos, but for left-handers, Felco 9s are an invaluable purchase. For righties, try the comparable F-8.
"Many knockoffs out there, but there is no substitute for Felco's quality; specifically, the F-9, since I am left handed. I have had mine for 30 years, and they're still going strong."
—Bill Cullina
Price: $58.07
Source: Felco; felco.com
These pruners are so sharp, you could filet a fish with them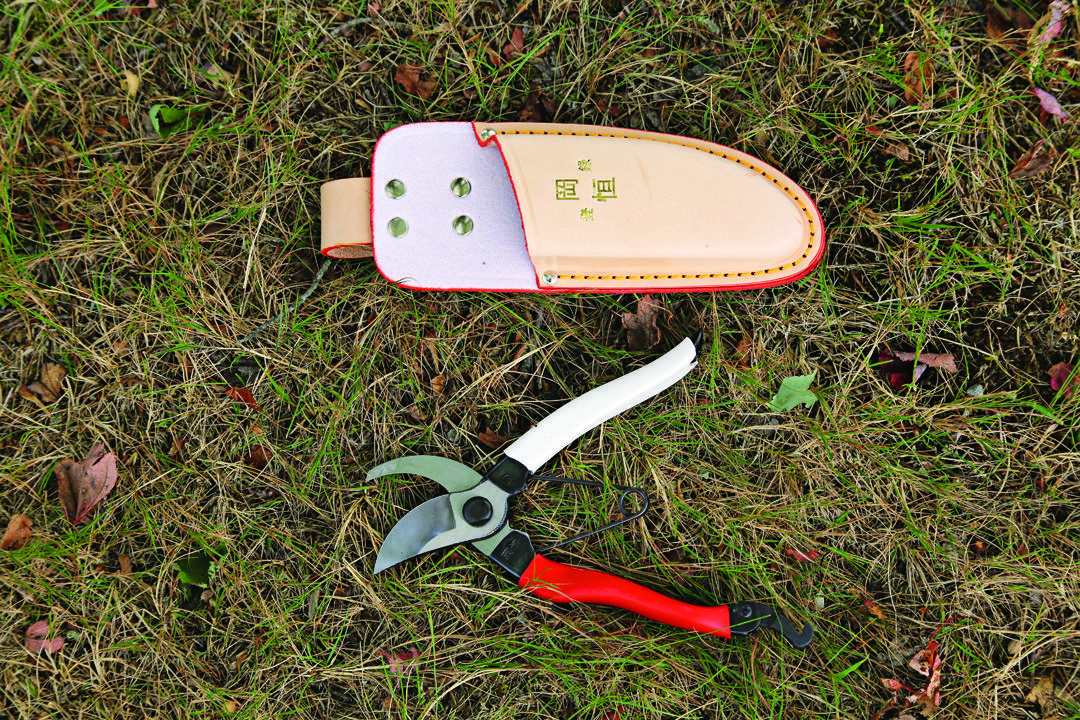 It might sound like an exaggeration, but it's not: Okatsune Bypass Pruners are made the same way as samurai swords are, by forge-laminating hardened steel in a sandwich of softer steel. The result is a pruner that anyone would be happy to go into horticultural battle with. The steel blade is razor sharp and, although not replaceable, is easy to sharpen. The spring-loaded locking/unlocking feature allows you to open and close these with one hand, which our nursery experts appreciated. Okatsune 103 (pictured) is the standard model, but the company does make a smaller pruner for smaller hands.
"The blade stays very sharp, is easy to clean and sharpen, and is extremely durable. I have a pair I've used almost every day for 27 years."
—Ed Gregan
Price: $35.72
Source: Amazon; amazon.com
Branches tremble when they see this handsaw coming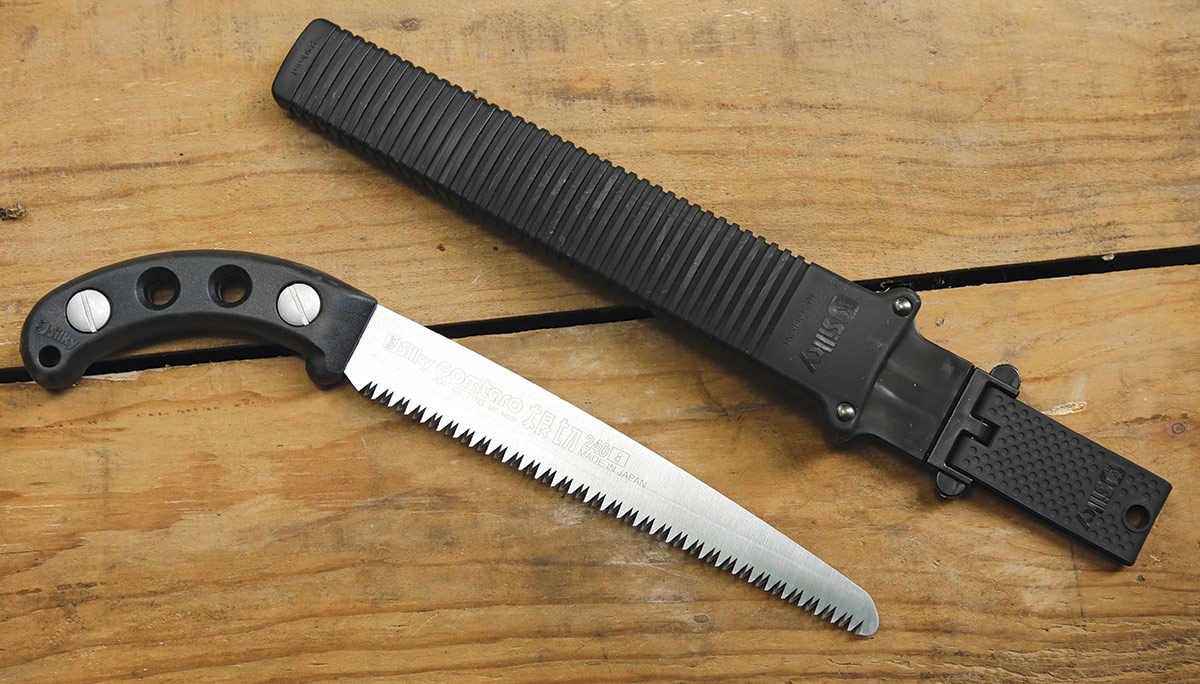 Employees at botanic gardens often have this amazing tool hanging from their belts (in a sheath, of course). The Silky Gomtaro 240 Root-Cutting handsaw has what the company describes as a "precision-ground, razor-sharp blade with 4 cutting angles that provide a fast, clean, and extremely smooth cutting action." We'd probably just say it's really freaking sharp. The cushioned rubber handle ensures that you won't accidently let this deadly tool slip out of your grip. The 91⁄2-inch blade is large enough to cut through fairly thick branches, too.
"The blade doesn't break like most stuff on the market, and it cuts roots as well as branches. When botanizing overseas, I don't leave home without it."
—Tony Avent
Price: $85.95
Source: Silky Saws; silkysaws.com
Orchard loppers tackle those tricky in-between branches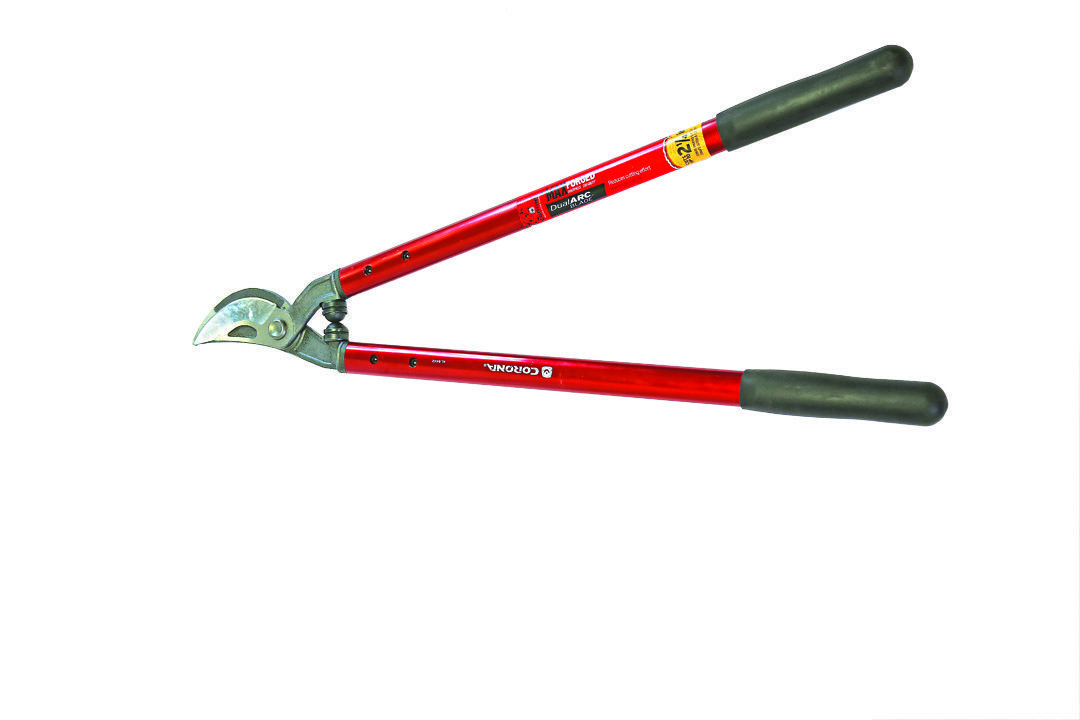 If you have some pruning that is too big for hand pruners but not worth the effort of breaking out the chainsaw, orchard loppers are your savior. Corona's High-Performance Orchard Loppers are made of lightweight aluminum, so your shoulders won't ache after a day of garden chores. The steel bypass blades are super sharp, leading to clean cuts (and they are easy to sharpen!). This model can take down a branch up to 21⁄4 inches in diameter despite weighing only a little more than 2 pounds.
"They are extremely lightweight and cut like a hot knife through butter! I'm addicted to pruning and could not live without
orchard loppers."
—Barbara Weirich
Price: $79.49
Source: Corona Tools; coronatoolsusa.com
Long-reach, telescoping pruners get into difficult spots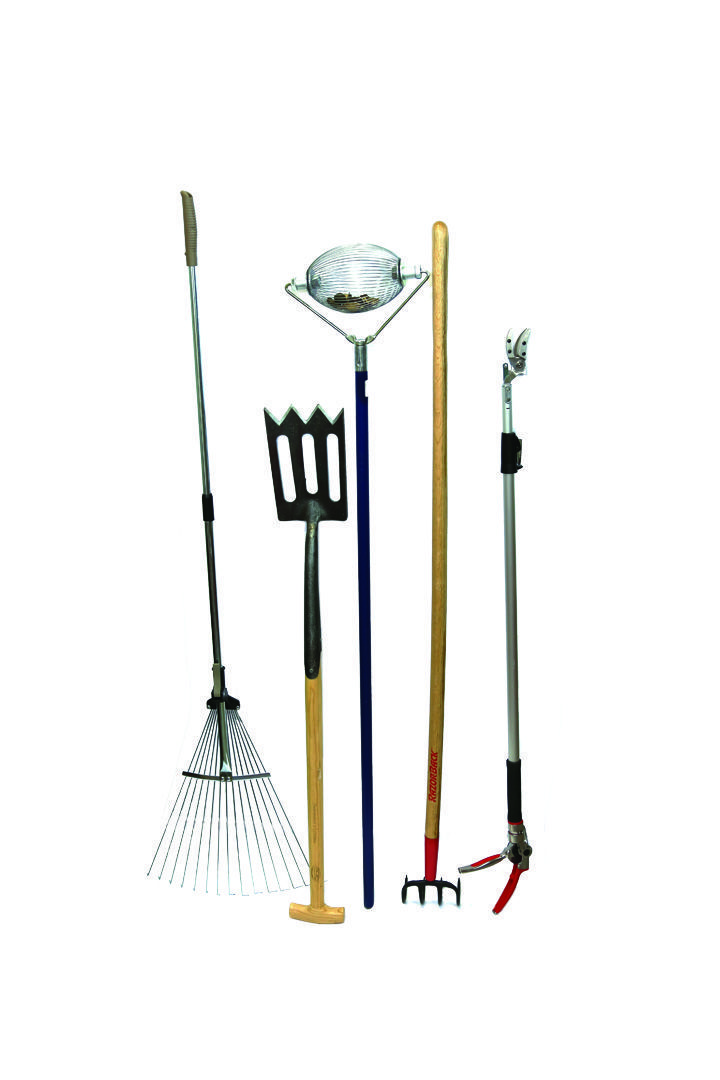 The conventional wisdom is that any pruning that requires a ladder should be done by a professional arborist. Thanks to the ARS Long-Reach Telescoping Pruner, you'll be making far fewer calls to that arborist. The arm length can be extended from 4 to 7 feet or from 6 to 10 feet (depending on the model), and the large blades are capable of cutting branches up to 1⁄4 inch. Specific models have a cut-and-hold feature (pictured), enabling you to guide where the pruned material drops. This could come in handy if you're trying not to squash the garden below with errant pruning debris.
"When your garden has deep borders, you simply cannot exist without long-reach pruners."
—Barbara Weirich
Price: $126.59
Source: A.M. Leonard; amleo.com
An upside-down sprayer gets under leaves without a hassle
Pests such as aphids and spider mites like to hide on the undersides of leaves, and there's nothing more frustrating than trying to apply a dose of organic insecticide in those tricky spots. Ordinary spray bottles (like those that come prefilled with liquid pest remedies) don't work when tipped upside down. Enter the Chapin Upside Down Trigger Sprayer, designed to work when you need to spray underneath the leaves of a plant. Each bottle holds 32 fluid ounces.
"It's ideal for chores that require spraying the undersides of leaves, such as when applying Cloud Cover to protect Japanese maple leaves from burning in low-humidity climates." —Susan Morrison
Price: $4.99
Source: A.M. Leonard; amleo.com
A glove that fits snugly and lasts a long time
If you're like a lot of gardeners and go through gloves like toilet paper, you might want to try Showa Atlas 370 Nitrile Gloves. They're lightweight and very stretchy, allowing you to bend your fingers around weeds without feeling inhibited. However, a pliable rubber/nitrile coating on the palms gives them the toughness of heavier-duty gloves. Bonus: They hold up well against multiple trips through the washing machine.
"These gloves provide a much higher level of dexterity than cloth or heavier rubber gloves do. I've also found them in a 3-pack—perfect for people like me who manage to lose several pairs every year."
—Susan Morrison
Price: $8.99
Source: A.M. Leonard; amleo.com
With this sturdy ladder, you won't break your neck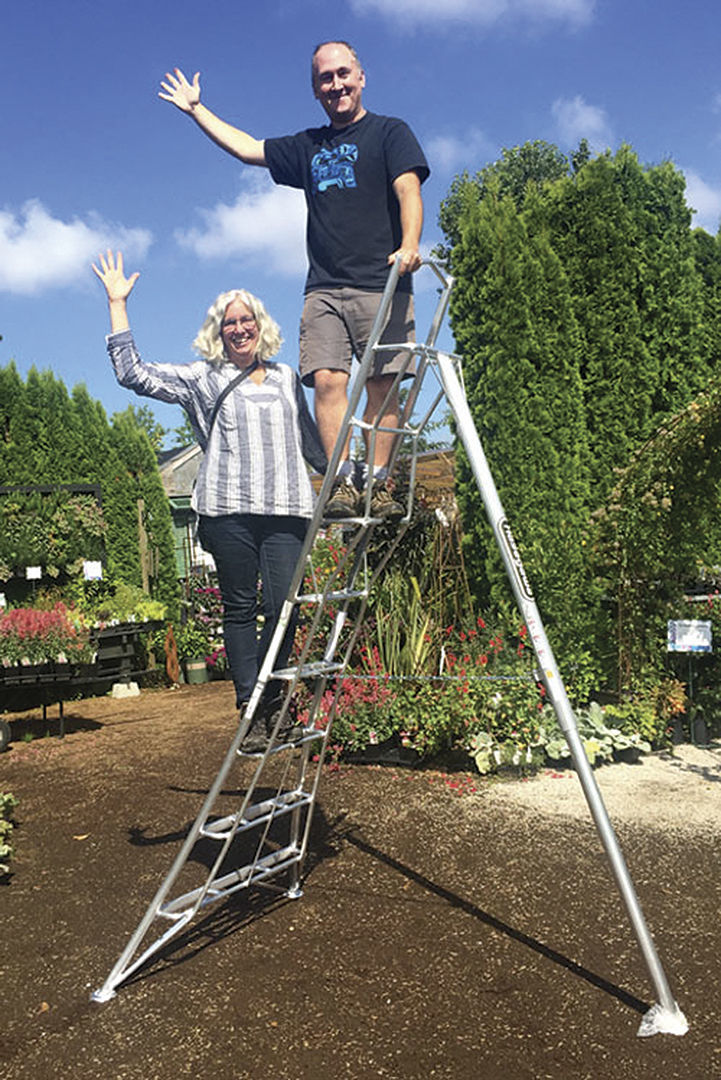 Although possibly not the first tool that jumps to mind when it comes to gardening, a proper ladder can literally mean the difference between life and death. And though there are many aerial tasks better left to professionals, sometimes you just need a ladder (think trimming hedges, picking fruit, or occasional pruning). The Hasegawa Tripod Ladder (available in several sizes) is super stable—even on uneven ground. It has a wide base, deep steps, and an adjustable back leg for rough terrain. The biggest surprise with this well-built piece? How incredibly light it is. The 7-foot model (pictured) weighs less than 20 pounds.
"The stability of this ladder is greatly reassuring; plus, the tripod design allows me to get in close to where I need to be. My old ladders now sit idle while my Hasegawa and I roam the garden looking for projects."
—Gary Lewis
Price: $335 to $600
Sources:
USA: Hasegaw Ladders; hasegawaladders.com (to find a local dealer)
Canada: Susanne Osmond Garden Design; susanneosmond.com
Potato forks double as rakes and cultivators

You don't need to be a farmer in Idaho to use or covet a potato fork. It's a useful tool when it comes to scratching compost into the first few inches of soil or raking through a bed to collect leaves and stones. Normally, potato forks have 3 or 4 tines that are set 1 to 2 inches apart. The Union Razor-Back Potato Refuse Hook has 4 wide-set tines made of durable steel, so they don't bend easily. The extra-long wooden handle (41⁄2 feet long) allows you to reach quite a distance into a bed without much trouble.
"Lighter than the typical garden rake, it's easier to work a potato fork quickly around objects and quickly flick stones and debris to the side. It's a pretty good back scratcher, too."
—Ed Gregan
Price: $41.99
Source: A.M. Leonard; amleo.com
The weird but practical award goes to…the nut picker-upper
This unique tool looks like it should come with a hamster that runs around the metal cage at the end. The admittedly strange appearance of the Holt's Nut Wizard, however, does not detract from its amazing nut-gathering abilities. If you have nut-producing trees like oak or black walnut, you know that picking up all those nuts can be an exhausting and back-breaking chore. But if you leave them on the ground, they'll sprout thousands of seedlings next year. And if you attempt to mow the lawn, you risk shooting acorns around like deadly projectiles. Simply roll the caged end around, and the flexible wires part for easy collection. Different sizes are available based on the nut size (12-inch Nut Wizard, pictured).
"My neighbor has a huge shagbark hickory that hangs over my lawn, and for about 10 weeks, it drops nuts. This rolling nut vacuum actually makes cleaning up fun (sort of). What a back saver!"
—Tony Fulmer
Price: $45.00
Source: Holt's Nut Wizard; holtsnutwizard.net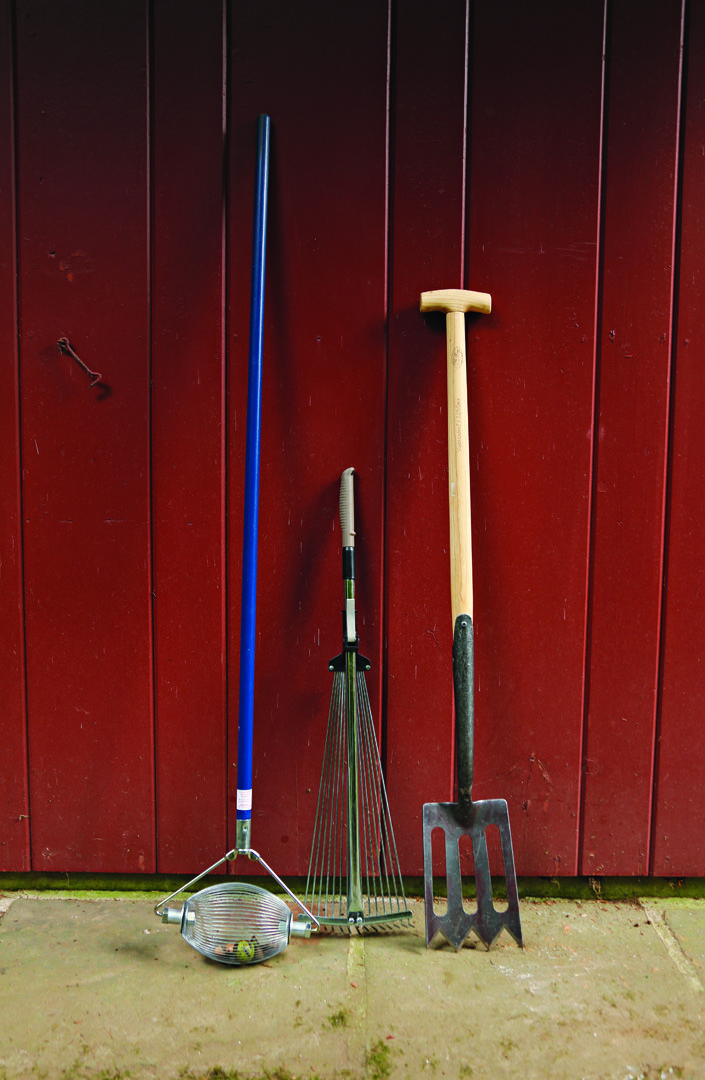 If you've got clay soil, you need a spork
Is it a pitch fork or a shovel? Technically it's neither, but the DeWit Spork combines the best qualities of both. The carbon steel tines cut smoothly into even the most compacted of soils, but with reduced friction, thanks to the open cut-outs in the blade. The wood handle is made from ash, so it's extra sturdy and holds up well when prying out larger perennials and shrubs for transplanting. Also, the spork is great for edging beds, cutting a deeper and cleaner line than any so-called professional edger out there.
"I love the way the toothed tines cut through the heaviest clay soil, but the open areas in the 'body' reduce the compaction that I would get with a solid-bladed spade."
—Tony Fulmer
Price: $99.00
Source: Lee Valley Tools; leevalley.com
A full-size rake in a pint-size package
Is there anything worse than storing leaf rakes? They take up a ton of space and always seem to fall off their hooks/holders. But they are a necessity come fall clean-up time. The answer to these problems is an expandable rake, and the Garden Plus Steel-Handle Steel-Head is one of the best. You can lock the fan into a compact, 6-inch version (pictured, left) or pull back and allow the steel head to expand to 15 inches (pictured, pg. 47). In its condensed form, the rake is perfect for sneaking in and around plants to get at leaves, and, when flushed out, it acts like a normal fan rake. The handle telescopes, stretching to 35 inches at full length.
"Not all debris can be blown out from hard-to-reach spaces, especially if you've just washed your windows or glass doors. I really like the adjustability and versatility of the expandable rake."
—Tony Fulmer
Price: $10.98
Source: Lowes; lowes.com