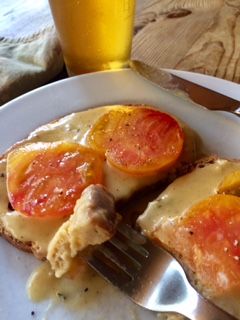 Rarebit or Rabbit–it's basically a cheese sauce over toast. I made this for the Great Hops Cookoff (had just 10 minutes) at the IHA conference and of course, I added herbs and a good hoppy IPA for maximum flavor, along with a dead-ripe summer tomato sliced on top. This is a quick and easy dish to make when you don't know what to have for lunch or supper and you don't feel like having just a sandwich.
Well if you look up Welsh Rarebit or Welsh Rabbit, there are lots of ideas how this recipe got its name and which name is indeed, the correct usage. Rarebit is a derivation of Rabbit, which most folks believe is the proper name. Although no rabbit is involved in the making of the dish… and never has been. Probably the Welshman who went a hunting for the rabbit wished he'd brought one home instead of having bread and cheese again for supper.
The dish Welsh Rabbit was first recorded in 1725, with the origin unknown, and there has been an infinite number of versions of this dish since then. In 1785, the dish was referred to as "Welsh Rarebit" by a Francis Grose. Grammarian H.W. Fowler, in the 1926 edition of the Dictionary of Modern English Usage, states his point of view: "Welsh Rabbit is amusing and right. Welsh Rarebit is stupid and wrong". Even Irma Rombauer in The Joy of Cooking, goes on about the name: "Our correspondence is closed on the subject of rarebit vs. rabbit. We stick to rarebit because rabbit already means something else." Personally, I find the etymology of this one quite entertaining. There is no toad in toad-in-the-hole, there is no turtle in mock-turtle soup and there is no rabbit in Welsh Rabbit.
Whatever it might be called, the dish is basically a wholegrain bread with cheese that has been melted over it, often the cheese is grated and beaten with milk, beer, or wine and an egg and heated as a sauce or baked in the oven so that it is melted and bubbling. Over the years, ground mustard seed, Worcestershire Sauce and a pinch of cayenne pepper have become standard ingredients.
I have added garden grown thyme to my rabbit, along with half-sharp paprika and garlic, even though it is not at all traditional it is very tasty. If you don't like beer, use milk instead. If the sauce seems a little thin, no worries since it soaks into the toasted bread quite nicely. I've seen some recipes add flour as a thickener though I do not want it pasty. Traditionally, a wholegrain bread has been used–no lily-livered white bread–both rye and pumpernickel are good choices also.
If you add a fried or poached egg on top of the rabbit it is called a "Buck Rabbit" or a "Golden Buck". The addition of tomato on top (my favorite way) it becomes a "Blushing Bunny"–I'm not making this up!
Hope you'll try a version of Welsh Rabbit while tomatoes are still in season!
Welsh Rabbit
Welsh rarebit (or Welsh rabbit as it was first called-and is considered by some-the correct name) is a simple dish. There are many variables-and some folks are traditionalists and will rail on about using only certain ingredients.
I am loose about my rarebit and season to my taste. Garlic is totally not a traditional ingredient, however I like my cheesy-beer sauce flavored with it, so I add the allium. In addition, I adulterate my rarebit with green herb flecks of dried thyme. The half-sharp paprika adds sweetness with a bit of pungency-if you don't have it, use regular paprika with a pinch of cayenne-or if you don't like the heat, just add paprika. Most recipes call for ground mustard powder, which I use, however I quite like mustard in this cheesy sauce, so I also add a Dijon-style mustard. I am a vegetarian so I use an anchovy-free Worcestershire. Use a beer with flavor-I like the bitterness of IPA, although stout and porter are tasty too-no wussie "lite" beers.
Serves 3 to 4
1 tablespoon butter
1 teaspoon English mustard powder or ground yellow mustard seed
1/2 teaspoon half-sharp paprika
1/2 teaspoon dried thyme leaves, crumbled
1 clove garlic, pressed
1/2 cup flavorful beer
1/2 teaspoon Worcestershire sauce
1 teaspoon Dijon-style mustard
8 ounces sharp cheddar cheese, grated
1 egg yolk
6 to 8 slices country-style, whole-grain bread (2 slices bread per person)
A heavy-bottomed saucepan can be used, however a double boiler is easier for not worrying about burned cheese. Place the top part of the double boiler over boiling water. Add the butter and melt it. Stir in the mustard powder, half-sharp paprika, crumbled thyme and pressed garlic and stir to combine. Stir in the beer-I use a whisk. Once the beer starts to warm, add the Dijon and Worcestershire and blend well.
Once the beer is getting hot, stir in a handful of cheese. As it melts continue adding the cheese in two or three more additions, stirring well and melting. Do not let the mixture boil. Once smooth, taste for seasoning, then take off the heat and allow to cool just a bit-about 5 minutes.
In a small bowl beat the egg yolk and add about 1/4 cup of the cheese sauce to the yolk, whisking well until smooth. Add the egg to the cheese sauce and whisk. Keep the sauce warm; if it cools it may solidify. (It can be gently reheated and whisked if this should happen).
Heat the rabbit sauce to hot and put the toast on plates. Ladle the hot sauce over the toast. Serve as is, or place under a medium-hot broiler for a minute or two until golden and bubbling. Serve immediately.
Option: In season, place sliced, summer-ripe tomatoes on top and garnish with a little sea salt and freshly ground pepper. Alternatively, a sprinkling of fresh minced chives is also lovely in spring.