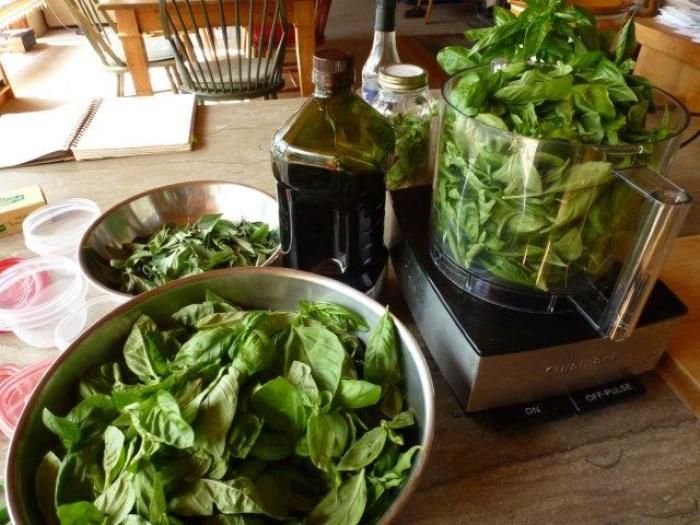 For centuries, Italians have made pesto with a mortar and pestle, hence the name pesto from the verb pestare, which means to pound or grind. Pesto prepared in this manner is by far the best, it has a wonderful emulsion and is thick and creamy. The flavors are also more intense–the garlic is more pungent, the nuts are sweeter and more resinous, and the basil is rich in perfume. Nowadays, many of us use the food processor to make pesto since it is quick and easy. Directions for both methods are given below. Traditionally, pesto is served with a flat-type noodle such as trenette, fettuccine, or linguine.
I prefer Parmigiano Reggiano for making pesto, but a less-aged Italian Parmesan such as Grana Padana can also be used. In Italy a sheep's cheese called pecorino is often used. Depending on the time of year and the type of basil and garlic that you use flavors will vary in strength, so you may have to add more of one or the other. If the pesto tastes sharp, add more Parmesan cheese, if it is too thick, thin it with a little olive oil.
A little pesto makes a good sauce for grilled or roasted fish and vegetables, especially salmon, potatoes, eggplant, tomatoes, and squash, as well as a tasty garnish for vegetable soups like minestrone. A delicious dip can be made by mixing equal parts of pesto with an equal amount of sour cream, served with fresh vegetable crudites. Though it isn't as wonderful as just-made, leftover pesto is still good after three or four days if it is kept tightly-covered in the refrigerator. The top layer will darken some; just stir it in.
Makes about 1 1/2 cups; enough to dress 1 pound of dry pasta or about 1 1/2 pounds fresh pasta
5 cloves garlic, peeled and sliced
1/4 cup pine nuts
4 cups basil leaves
Salt
1/2 cup freshly grated parmesan cheese
About 3/4 cup extra-virgin olive oil
Combine the garlic and pine nuts in a large mortar and crush them with the pestle into a smooth paste. Add the basil to the mortar, a handful at a time, crushing the leaves against the sides with the pestle. The mixture will be like a coarse, thick paste until the oil is added. Add a few pinches of salt to the basil.
Stir in the cheese. Drizzle the olive oil in slowly, a bit at a time, as you work it in. The pesto should become very smooth and there should not be any big pieces. Once most of the oil is added, taste for seasoning and adjust with a little more oil, cheese, or salt.
If you are using a food processor, combine the garlic, pine nuts, basil, few pinches salt, and a few tablespoons of the oil. Process until mixed. Add the cheese and most of the remaining oil and process until smooth and homogenous. Taste for seasoning, and add the rest of the oil, and a little more cheese or salt, if desired.
Cook the pasta until it is al dente. Toss the pasta with the pesto using a few tablespoons of the hot pasta water to thin the pesto so that it coats the pasta evenly. Add a few more tablespoons of pasta water if necessary. Serve immediately.