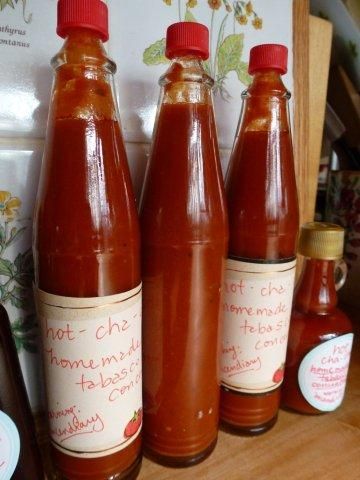 I was on the road, when back at home we had a freeze warning, so I asked Tomaso to bring in all of the chiles. Rather than pick them all, especially the Tabasco plant which was about five-foot tall and loaded with the tiny little capsicums, I suggested he just pull it up by the roots and hang it in the garden shed until I returned and could deal with it.
So I had a large plant covered with hundreds of peppers, most of them mature red, though a few were still orange and yellow. I cut off the branches from the root end and put them in one of my big harvest baskets and brought it indoors to deal with. Probably what took the longest, was snipping all of the little peppers from their stems. Usually, I add some Tabasco chiles to my pickled peppers, I often dry them and use them in crafts, or grind them to make hot pepper flakes. However, since I recently helped to prepare fish pepper mash for fermentation at a local restaurant, I decided I would try my hand at making my own sauce.
The famous and ever-present concentrated hot sauce, TABASCO ®, is available in just about every grocery store and restaurant in the U.S. and is sold worldwide. The sauce contains only hot peppers, salt and vinegar. It has been made by the McIlhenny family on Avery Island, Louisiana since 1868. The peppers are grown there, harvested and made into a mash and then aged in oak barrels with Avery Island salt for three years. After that, they are mixed with vinegar and allowed to stand for another 30 days, before the mash is strained and bottled. They have an informative Web site, www.tabasco.com, where one can now purchase numerous additional products made with other members of the capsicum family from jalapenos to chipotle.
Well, I wasn't willing to wait three years, so I went about making a modern day concentrate. I washed my chiles and put them in a non-reactive pot and covered them with water (ratio was about 2 quarts of chiles to 1 quart of water). I brought them to a simmer and let them cook for about 10 to 15 minutes, covered with the lid slightly ajar. Then I covered them and turned off the heat and let them cool to room temperature, allowing them to stand overnight (up to 24 hours would be okay; keep the lid ajar).
The following day, I put the peppers and liquid into the food processor in batches and pureed them roughly. Then I returned them to the pot and cooked them at a simmer for about 20 to 30 minutes, covered them and let them stand for another 20 to 30 minutes. This helps to soften them as well as extract their essence so they are easier to run through the foodmill.
Next, I proceeded to run them through a food mill to remove the skins, seeds and membranes. I actually take the leftover pulp from the foodmill and put it into a saucepan with another cup of water and simmer another 10 to 15 minutes and strain it again to get all of the essence out of the chiles. I had almost exactly 1 quart of thick pepper puree, which I returned to a clean non-reactive pot and added an equal amount of apple cider vinegar (4 cups). I brought the sauce to a boil, reduced the heat and cooked it at a bare simmer until it was reduced to a bit less than half of the amount and it was fairly thick. I added 2 teaspoons sea salt toward the end of cooking. This reduction took about 2 hours, perhaps a little longer, stirring occasionally.
Once the concentrate cooled to room temperature, I poured it into small bottles and labeled them. This concentrate is extraordinarily hot, so I put a warning on the label. I would also advise, if you are sensitive, you might want to wear rubber gloves, when handling the peppers. A mask is a good idea when pureeing the peppers, running them through the mill and washing up the equipment with hot soapy water; it can literally take one's breath away.
I will be giving my coveted hot sauce to other chile aficionados as holiday gifts. It has been enthusiastically endorsed by my local chile heads and I am quite pleased with the results. I have been using it in everything from hot sauce, chili, beans and soups to Bloody Marys. Nothing like homegrown & homemade.