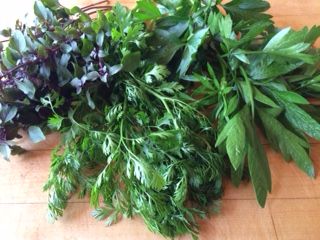 Here it is the last week of June and my cilantro, rocket, dill, and parsley are over a foot tall and some are wanting to bolt. Get out there and whack those herbs back–to prevent them from bolting, prolong their life and encourage new growth–and enjoy them for supper. Here is a different take on pesto–South-of-the-Border style, which is lovely on pasta, or anything from the grill.
You can use any herbs or any kind of chile peppers really–I'm harvesting new garlic just now–it is pungent and delicious. I like tagliatelle, fettuccine and spaghetti with green sauces because it coasts them well–add a scoop of pasta water when you are tossing the sauce and noodles together–it helps to loosen the sauce just a bit (prevents clumping) and coats them evenly.
Herb and Chile Sauce
This sauce is similar to a pipian verde from Mexico, or rather like a Southwestern-style pesto. It is delicious on pasta, potatoes, squash, fresh sliced tomatoes, or with grilled chicken and fish.
Originally, I created this recipe using roasted green chiles, however jalapeños and serranos (or any chile peppers) work great if you don't have green chiles on hand, or time to roast them. You may need to add a hot pepper anyway, if the green chiles aren't hot.
Makes about 3 cups sauce; enough for 8 servings of pasta (about 2 pounds)
4 or 5 large cloves garlic
4 large green chiles, roasted, peeled, and seeded OR 2 to 3 large jalapeño or serrano peppers, stemmed and seeded, coarsely chopped
1/3 cup sliced almonds or walnut halves, lightly toasted
1/3 cup hulled pumpkin seeds, lightly toasted
few pinches sea salt
generous cup packed cilantro leaves
about 1 cup packed basil leaves
about 1 cup packed Italian parsley leaves
3/4 cup freshly grated parmesan
About 1/3 to 1/2 cup extra-virgin olive oil
In a food processor or mortar, combine the garlic and chiles and pulse or pound with the pestle until coarse. Add the nuts, seeds and salt and pulse or pound until the mixture is coarse. Add the cilantro, basil, parsley, all at once to the processor with a little oil and pulse until coarsely chopped. Or add the herbs to the mortar by the handful with a little oil and pound with the pestle until coarse, adding a handful at a time and a little more oil until they are all incorporated.
Start the processor, and pour the oil in a steady stream, pulsing briefly as the ingredients are processed. Or add the cheese and enough oil to the mortar to make a medium thick sauce; do not puree. Pulse or pound so that there is still some texture and bits of garlic, nuts, chiles and herbs.
The sauce should be thick and pasty-add a little more parmesan or olive oil to obtain the right consistency. Taste for heat and adjust with another chile pepper if need be.
Toss with hot pasta, garnish with extra cheese and serve immediately. Or serve the sauce as an accompaniment to crudités, hot tortillas, fajitas, grilled veggies, etc.
If you want to have some fun and create herbal dishes like this–check out my summer folk school class coming soon in August https://www.ozarkfolkcenter.com/calendar-of-events/workshops/ofcspculinaryherbs.aspx We will be concocting and practicing herbal deliciousness for three days!