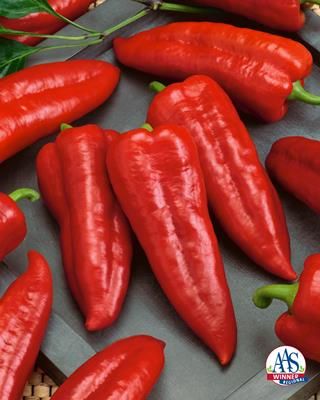 Peppers, anyone?
If you're a heat-loving pepper grower like me, there's some good gardening news. All-America Selections (AAS) is introducing three new pepper varieties that include something hot, something sweet and something completely different.
AAS is the national plant trialing program that's been around since the 1930s. Each year judges from all corners of North America evaluate the best new flower and vegetable performers and give some the prestigious "AAS Winners" designation. When gardeners see the AAS stamp of approval, they can be assured these winners will perform just as advertised.
For the first time, AAS has announced Regional Winners, too. These are the plants that performed especially well in different regions of the country. 
Here in the Mountain and Southwest region, one pepper made the Regional Winners list. Add in two other peppers that can grow anywhere, and pepper lovers have a trifecta of fruits for gardening this season.
Regional Pepper Winner
Giant Ristra is a beautiful red horn-shaped pepper that grow on short, bushy plants. These peppers take about 80 days to harvest after transplanting into the garden. Plant in full sun and space about 12 inches apart for heavy yields of hot, 7-inch long chile peppers. AAS says these peppers can be eaten fresh off the plant or roasted for a deeper flavor. Dry these the old-fashioned way by stringing them in long bunches to use throughout the winter.
National Pepper Winners
Mama Mia Giallo is an early-maturing sweet Italian pepper with bright yellow skin. These peppers take about 85 days to mature after transplanting. The extra-large fruits grow on 24-inch plants with dark green foliage, making for an attractive addition to the vegetable garden. Enjoy Mama Mia Giallo fresh, grilled or roasted. 
The NuMEX Easter pepper plant is an AAS ornamental winner. Bred by the folks at the Chile Pepper Institute at New Mexico State University, this bedding plant produces small peppers that change colors as they mature from lavender to light yellow to orange. The compact plants will add a stunning addition to patio containers, low borders, the front of the perennial bed or any other small spot where they will really shine.