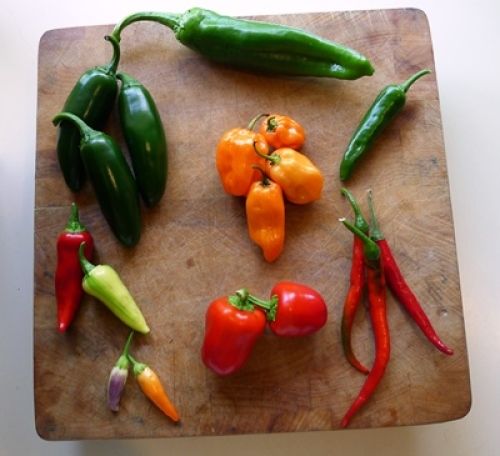 The pepper harvest has finally started in my patio garden. Early in the season, the challenge was to grow healthy plants and now the challenge is to keep up with the ripening fruits.
The peppers I planted in containers are always a nice balance between old favorites and either new-to-me varieties or brand new introductions. 
Old favorites include Jalapeno, Anaheim, Dragon Cayenne and Cayennetta. I grow these every season because each pepper has a specific use in the kitchen, from using them fresh to roasting, pickling, drying or freezing. 
Some of these new peppers are sure to become old favorites after this season:
Pretty N Sweet is a 2015 All-America Selections (AAS) edible winner. These small-size sweet peppers mature in about two months and turn from green to orange to ripe-red. They have a sweet taste with a hint of heat. Besides producing good crops of peppers, the plants work as ornamentals, too.
NuMex Easter was a 2014 AAS winner in the bedding category. This ornamental cultivar was developed at the Chile Pepper Institute in Las Cruces, NM. The plant gets its name from the color of the peppers that change from lavender to orange. I started these from seeds provided by AAS and they took much longer than I thought to set fruit. But once they took off, they added a lot of color and interest to the garden. These small peppers are edible, but quite hot.
Habenero peppers were the hottest peppers I planted this season. I grew just one plant that produced a good amount of orange peppers that I used fresh to make several batches of roasted chile salsa. The heat was tempered by mixing the roasted habeneros with chopped fresh tomatoes, garlic, onion, cilantro and plenty of just-squeezed lime juice.
Of all the peppers I planted, the Fish peppers were the most interesting. The variegated leaves and striped fruit made for an attractive plant. Watching the peppers change color from green to red to brown added to the enjoyment. With each color change, the peppers changed in taste, too.
Flaming Flare is another 2015 AAS edible winner. I'd rate this new type of Fresno pepper as a keeper. The plant grew beautiful 6-inch peppers that ripened to a fire-engine red. That color seems appropriate because these peppers pack plenty of heat. 
Did you grow any new-to-you peppers this season? What do you recommend I plant next year to help feed my pepper passion?