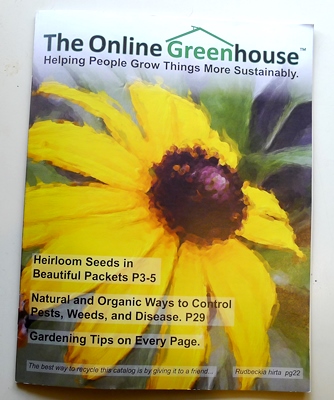 Spring just got a little closer while thumbing through the pages of The Online Greenhouse catalog. There's a lot to like about this new-to-me garden company starting with its tagline: Helping people grow things more sustainably. I'm happy to add this catalog to the list.
The online seed and garden products store is based in Canaan, Conn., and is a relatively new player in the seed business, starting about four years ago. The company prides itself on offering green and sustainable products made in the USA.
The nice line of Hart Seed Heritage edibles immediately caught my eye. These heirlooms are old varieties that have been around for more than 100 years and the antique-looking seed packaging adds to their charm. There's a Heritage Vegetable gift set of 20 packets or gardeners can order individual packets like 'Bountiful' stringless green beans, 'Silver Beet' Swiss chard, 'Connecticut Field' pumpkins, 'Parris White Cos' romaine lettuce, and 'Cocozelle Di Napoli' squash.
There's a wonderful selection of heirloom flower seeds and a Heritage Flower gift set, too.
The catalog has many other herb, vegetable and flower seeds as well. The Online Greenhouse carries a good selection of biodegradable CowPots to get seeds started this spring. All the potting soils, fertilizers, and insect and weed controls are designed with the organic gardener in mind.
I also liked the assortment of seed-starting kits that makes ordering easy for gardeners with a specific need in mind. Choose from garden kits like Patio Veggie, Three Sisters, Veggie Garden, Container Herb Garden, Italian Herb, Salad Mix, and a Pizza kit. The kits include potting mix, CowPots and all the seeds you'll need. 
Other catalog features gardeners are sure to like include: 
A flat shipping rate of $2 for all seed orders (except grass seed).
Other shipping costs are easily calculated by the pound.
The referral program that rewards gardeners for encouraging friends to place an order. 
Hart's Heritage Seed packets that can be ordered in bulk to use as party favors for weddings and garden clubs or giveaways at business events.