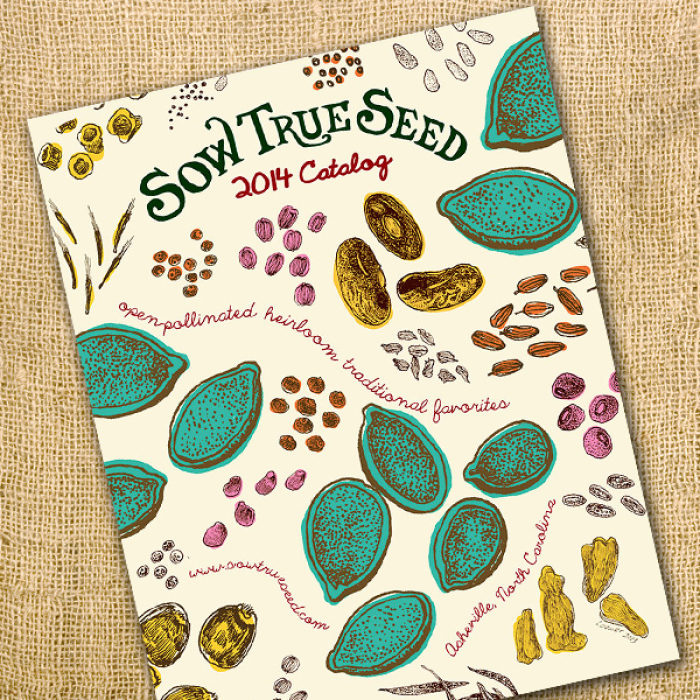 As I prepare to start another great and (hopefully) successful season of seed starting and vegetable gardening, I continue to include more organic and heirloom varieties in my Victory Garden. Sow True Seed has become one of the new additions to my seed catalog collection as a result.
Sow True Seed is located in Asheville, North Carolina. They offer over 400 varieties of untreated, heirloom, open pollinated/non-hybrid, traditional and certified organic seeds. The company offers retail to the public from their warehouse, as well as online. From their website, "Sow True Seed was founded in 2009 to serve home gardeners, market growers and the seed saving community at large. The company seeks to promote and foster community sustainability by helping to preserve our shared botanical heritage and seed a new era of sustainable culture and ecological wisdom."
Sow True Seed's catalog is a real pleasure to look through. Over 50 pages of vegetable, herb, flower and cover crop seed listings make up the majority of the catalog. Their 11 seed collections are great for gifts or if you have a particular type of garden in mind. Two pages of book offerings include a great variety of gardening guides, farm and homestead resources, and seed books. Following this are pages that talk about their seeds, their fundraising programs, a seed saving guide and planting guide.
I immediately noticed the use of type along the outside edge of the catalog. At the beginning of each vegetable listing, the veggie's name is vertically written, in a 'tab' of color. This makes finding the plant you're looking for quite a bit easier. Speaking of color, each plant group (veggies, herbs, flowers, etc.) uses a different color scheme for its fonts and color bars at the bottom of the catalog. The photography is very well done, in a style I haven't yet seen in seed catalogs. I also appreciated the use of an uncoated "newsprint-esque" paper stock that the catalog is printed in.
Starting out each plant listing is a paragraph on its culture and growing habits. Occasionally, 'gardener's notes' add valuable planting and spacing information. This information also includes companion plants (yes!). Following this is, of course, the variety listings. The listings are well written, with bold type highlighting the breakdown of prices. I liked that they had each packet size and price on a separate line… very helpful. Organic and heirloom varieties are clearly marked. 
The Sow True Seed catalog is a great source for untreated, heirloom, open pollinated, non-hybrid, traditional and certified organic varieties, and is a "must-have" for your seed catalog collection.
To request a copy or to order their seeds and products, visit www.sowtrueseed.com.