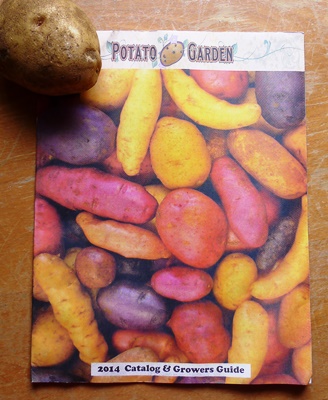 Even if you've never grown potatoes before, you can get started this season with just one catalog in hand. Thanks to the folks at the Potato Garden, you can select the potatoes you'd like to grow and then discover how to plant, maintain and dig your crop.
There's no mystery to growing potatoes, if you follow a few simple instructions. If I can grow potatoes in a trash bag, you can grow them in your garden or raised beds.
If you've never tasted a fresh, homegrown potato, you owe it to yourself to give it a try.
The Potato Garden is locate in Austin, Colo., and the company has sold many kinds of potato seeds since 2002. The growers there use a technique called micro-propagation (tissue culture) to ensure its certified seed potatoes prevent the spread of potato diseases. The process is a lengthy one, but worth it to make sure gardeners are able to grow high-quality, disease-free potato plants.
You can get your hands on a catalog either by downloading it from the Potato Garden website or ask for one to be mailed to you. 
There are four main categories of potatoes listed in the catalog. These include early, mid-season, late season and fingerlings. Within each category, gardeners can select the type of good-eating potato they like best.
For example, the early potatoes are short-season potatoes that mature in about 60-80 days. There are some nice heirlooms, like Belle de Fontenay from France, and new releases like Dakota Rose from North Dakota. 
If you're in a part of the country with a longer season, there are many mid-season (80-100 days) and late-season (100-130 days) potato varieties for you to add to your garden. I think it would be fun to grow some different colored potatoes, like Purple Majesty, Mountain Rose or Red Cloud. 
Gardeners can also choose from the Potato Garden catalog's list of fingerling potatoes, in early, mid and late season offerings, too. These are the potatoes that grocers price at a premium, but gardeners can easily plant and grow at a fraction of the price.