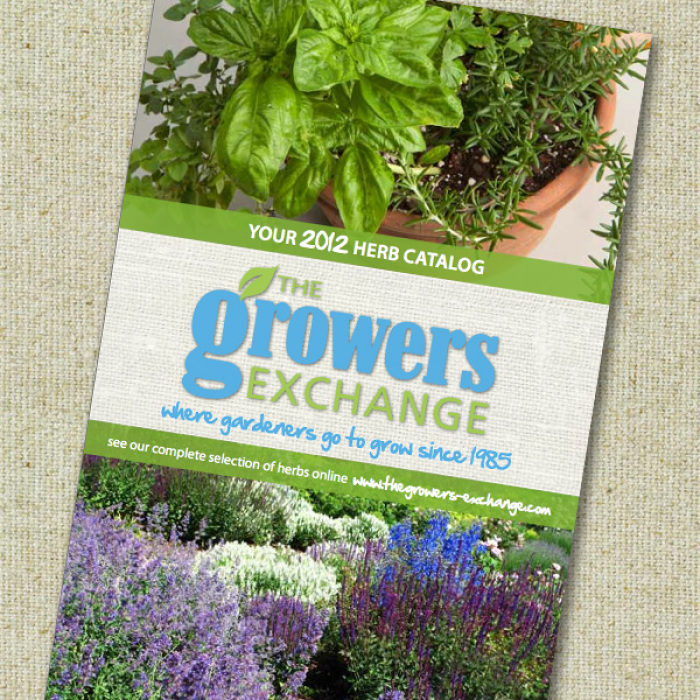 While my passion for gardening primarily exists in growing vegetables, I've become quite fond of herbs in the last 2-3 years. From last year's basil that gave us fresh pesto, to the 'chocolate' mint that single-handedly took over one of my 5'x5′ raised beds, herbs are now a mainstay in my Victory Garden. Which is why I was so delighted to come across The Growers Exchange.
The company started in 1985 in Richmond, Virginia, and after being a brick-and-mortar garden shop for many of those years, they moved to their permanent virtual store on the Web in 2005. "We've always grown our plants by hand on our family farm in Charles City, Virginia, which is along the historic James River," Caroline Upshaw of The Growers Exchange said. "We strive to offer harder to find culinary, aromatic and medicinal herbs, and find that as a Web store now, we enjoy exchanging with a much larger community."
The Growers Exchange catalog is another example of a well-designed and organized resource. Though the catalog is only a half-letter-size (5.5″ x 8.5″), its 48 pages are filled with beautiful photography, colorful graphics and easy-to-read type (I especially appreciate the 'handwritten' font used throughout).
 

The Growers Exchange
11110 Sandy Fields Road
Richmond, VA 23030
888-829-6201

 
 
Starting the catalog out is a letter from co-owner Briscoe White, index, and an explanation of the 'legend' (abbreviations and symbols) used for each plant product. This attention to detail makes it very easy to learn important information about your plant choices quickly. The next 18 pages reveal their excellent variety of herbs. The photos are arranged in the center of each page, with a band of color containing an important tidbit of information. Colors designate the different sections of the catalog at the top. As stated earlier, symbols, simple descriptions and clear prices make it easy for you to find what you need.
From the herbs we move into a few pages of their flower selections, again with great photography. Need potted herb or herb garden kits? They have you covered. Great for that herb lover or culinary enthusiast on your gift list, these kits will surely warm your home. Tools? Gotta have them. Rounding out The Growers Exchange catalog are essential garden hand tools, hats, etc.
If you are growing herbs, as I have started to do more often, The Growers Exchange catalog is a must-have. To request a copy of their catalog, or to order plants, kits, etc., visit www.thegrowers-exchange.com.