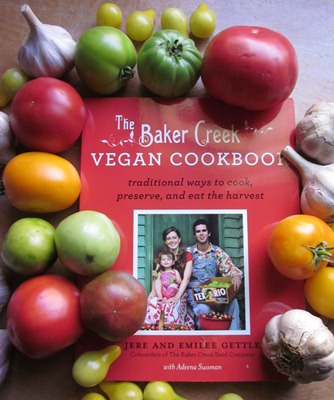 If you didn't grow up enjoying Grandma Nellie's Garden Soup, don't fret. Her recipe for homemade vegetable soup is included in the new collection of more than 125 recipes in The Baker Creek Vegan Cookbook (Hyperion, 2012).
The cookbook, written by Jere and Emilee Gettle with Adeena Sussman, is a natural follow up to the Gettle's first book called The Heirloom Life Gardener. 
The Gettles, cofounders of The Baker Creek Seed Company, share their family favorite vegetarian recipes just like they share their heirloom seed varieties in their popular catalogs. 
Look for recipes like Granny's Wild Possum Grape Jelly on one page and Heirloom Roasted Eggplant Pizza on another. The recipe for Broccoli Pad Thai is similar to the one Jere ordered for Emilee on one of their first dates.
Other recipes in the cookbook are from the Baker Creek pay-as-you-can restaurant the couple opened in 2009. The Vegetable Tempura with Thai Basil is one of the most popular dishes they serve.
While the recipes come from different sources, they all have a common purpose: "To share with people just how diverse heirloom produce can be."
The recipes are the highlight of the book, but the Gettles also include a chapter on Canning and Preserving. In this chapter Emilee shares canning tips she learned from experience, such as using a dry cloth-lined saucer to keep hot jars from exploding when placed on a cold surface.
The section on Kitchen Staples is an especially valuable addition for anyone who wants to learn how to cook without using animal products. Two creative alternatives include a vegan Worcestershire sauce and a No-Fish Fish Sauce.
The Baker Creek Vegan Cookbook is a good resource for vegans, anyone aspiring to become a vegan or ordinary meat-eating gardeners looking for creative recipes for their homegrown produce.
Readers have their choice of formats for The Baker Creek Vegan Cookbook because it's available in paperback or also on Kindle.
[The Baker Creek Seed Company provided me with a free review copy of the cookbook.]