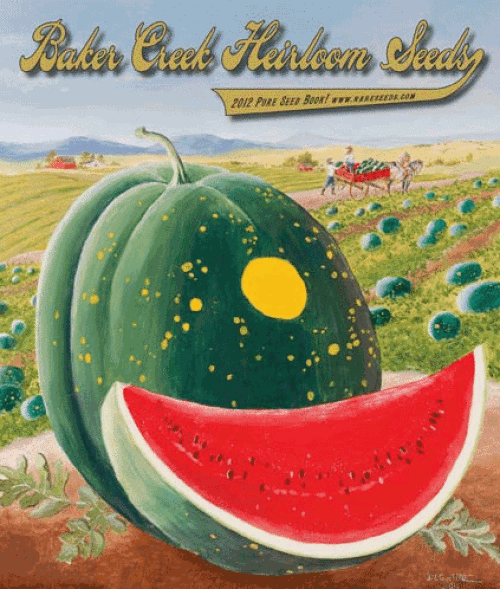 Seed Company Grows the Old-Fashioned Way

Baker Creek Heirloom Seed Company had a simple start in 1998 when seventeen-year-old Jere Gettle sent out his first seed catalog to a few hundred gardeners. Since then, his seed company has grown into one of the foremost heirloom seed companies in the country, printing 250,000 catalogs that feature more than 1400 varieties of vegetables, flowers, and herbs from 70 different countries.
There's a lot to love about Baker Creek Seed Company, from the colorful catalog cover art created by Jere's mom, to the family photos of his wife and daughter, to the fact that all of the seed is non-hybrid, non-GMO, non-treated and non-patented. These are true heirlooms.
I had the chance to meet Jere at a tradeshow and he's as genuine as his seeds. You have to admire a guy who dreamed of becoming a seedsman and then worked hard to make his dream come true.
Catalog Features the Rare and Unusual
The company headquarters is located in Mansfield, Mo., site of the Seed Company and Pioneer Farm, and home to monthly festivals including the old-fashioned Spring Planting Festival in May. The company also has a seed store in Petaluma, Calif., and in 2010 purchased the Comstock, Ferre & Company Seed House in Wethersfield, Conn.
Baker Creek Heirloom Seeds
2278 Baker Creek Road
Mansfield, MO 65704
417-924-8887
or
Baker Creek Seed Bank
199 Petaluma Blvd. N.
Petaluma, CA 94952
707-509-5171
https://rareseeds.com
Gardeners can find just about any heirloom or rare seed they want, from amaranth to watermelon, in Baker Creek's paper or online catalog. Each selection includes complete descriptions of where the seed came from, a bit of its history, why the variety was selected for the catalog and ideas for using the finished product in the kitchen.
This catalog is the place to browse a wide selection of oriental greens, 32 kinds of hot peppers, 27 different radish varieties, and unusual ornamental melons from the wilds of Africa. There are more than 60 new items in the 2011 catalog including many old tomatoes from around the world.
Some of the more unusual include "Chocolate Stripes" which is described as a mahogany-colored tomato with red stripes, and a small, bright orange tomato with the mouth-watering name "Rich Sweetness 132." Long, slender Roma-type tomatoes in the Icicle series come in three colors: black, yellow, and pink.
Cottage Garden Favorite Flowers
In addition to the overwhelming variety of heirloom fruits, herbs and vegetables, the catalog has a selection of old-fashioned cottage garden flower seed. Asters, Bachelor's Buttons, Calendula and Hollyhock are some of my favorites, but who could resist a flower called "Kiss-Me-Over-The-Garden-Gate"?
Jere has also packaged seed collections to help gardeners find an economical way to get started in market gardening. The packages are available for both Northern and Southern options and come in small, large and jumbo sizes.
The Baker Creek Heirloom Seed catalog isn't simply a way to order seeds for the garden, it also has recipes, inspiring quotations and beautiful photos. Jere's catalog is both a fascinating shopping experience and an enjoyable way to learn why it's important to preserve heirloom seeds for the future.