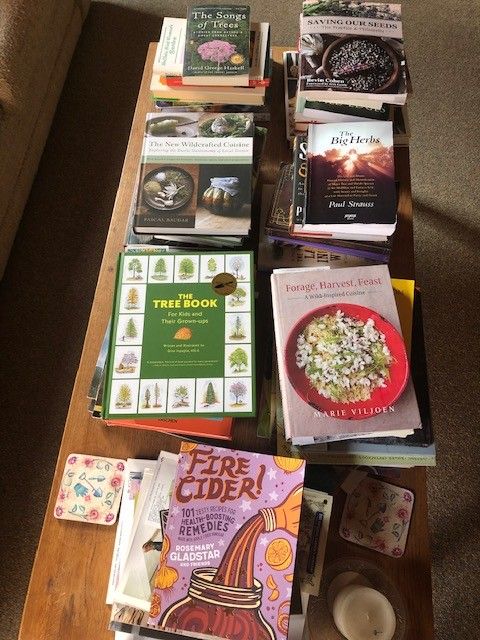 I am a confessed bibliophile; I love books. I enjoy reading and learning and try to spend time everyday with a book. Currently, I am reading/perusing at least six books. Here are a few ideas for gifts for your favorite gardeners, wild-foods foragers and cooks just in time for the holidays or to read in the new year ahead. Most are new–some just new to me.
Books take me to a happy place. It doesn't matter whether I am doing research or reading for pleasure, I can be sitting cozily by the woodstove with a cuppa tea, lounging on the sofa with a cocktail, in the bathtub (yes I have a bookrack complete with a wineglass holder and candle), or propped up on pillows in bed late into the night.
It was challenging to choose just six books to include here–no special criteria really–these are closer to the top of the piles on my coffee table.
I am forever a student of trees–we humans could not live without them. The first book on this list isn't new, however it has recently been republished. I saw illustrations from this book in an article, which inpsired me to pursue finding it.
The Tree Book For Kids and Their Grown-Ups, written and illustrated by Gina Ingoglia, published by Brooklyn Botanic Garden, Inc., 2019, is a beautifully illustrated book, with simple to understand text and glossary and "captures the absolute magic of trees". There is information on how trees grow, "eat and drink", flower and fruit; and then there are entries on individual trees with exquisite, detailed drawings of their shape, leaves, flowers, fruit, seeds and samaras. It appeals to both children and adults.
This past summer when I attended the grand opening of the Center for Medicinal Plant Conservation dedicated to Jim and Peggy Duke at the United Plant Savers Botanical Sanctuary in Rutland, Ohio, I had the great pleasure of doing a wild woods walk with Paul Strauss. He is indeed, a tree lover and I bought his book: The Big Herbs, subtitled The Use and Abuse, Natural History and Identification of Major Tree and Shrub Species in the MidWest and Eastern U.S., with Stories and Insights of a Life Married to Farm and Forest, which pretty much describes what the book is about. Published in 2014 by XOXOX press, this is a most enjoyable read and I must say there is an awful lot of yellow highlighting in my copy. Here's a quote from Paul: "A life centered on the earth is the most rewarding, giving you opportunites to view the interconnection of all things and the dancing circles of life and death, to be endlessly humbled and amazed as you reap what you sow."
Saving Our Seeds, The Pratice & Philosophy is the second book about seed saving by friend Bevin Cohen of Small House Farm. Besides growing and saving his own seed, Ben is doing amazing work promoting seed saving and travels around the country to attend and lecture at seed swaps and has helped many communities start their own seed libraries. Jere Gettle, founder of Baker Creek Heirloom Seed Company wrote the forward for this full-color book and there are many gorgeous photos of produce courtesy of Baker Creek. Ben has boundless enthusiasm for all things related to gardening and seeds and even though he young, he has the knack for telling a good story.
While studying the Northern United States, I came across The Sioux Chef's Indigenous Kitchenby Sean Sherman with Beth Dooley, published by the University of Minnesota Press in 2017. This book won a James Beard Foundation Book Award and for good reason; it features only indigenous, locally sourced vegetables, fruits, wild and foraged grains, game and fish. "Sherman dispels outdated notions of Native American fare–no fry bread or Indian tacos here–and uses no European staples such as wheat flour, dairy products, sugar and domestic pork and beef." This book awakened my thinking about real indigenous cuisine and the recipes inspired me–with tasty results–I admire his work.
Since I forage and eat wild foods, I recently found two books on the subject–both are beautiful tomes–and very different. The New Wildcrafted Cuisine: Exploring the Exotic Gastronomy of Local Terrior by Pascal Baudar, published by Chelsea Green Publishing in 2016, highlights foods from his coastal California bioregion, however it is not really about wild foods identification–although there are many photos of wild foods. In the Preface, Baudar explains, "This book is about exploring from a culinary perspective what the wilderness is so generously gifting to us and about how to create interesting ingredients that will represent your local terrior as a forager, cook or chef. To some degree it fills a gap between foraging and cooking." His use of wild botanicals is exciting and awe-inspiring–oh my gosh–I have created new vinegars, spice blends, sugars and syrups–and an incredible fermented hot sauce with wild greens. And I've only just begun!
Last though certainly not least, is Marie Viljoen's Forage, Harvest, Feast: A Wild-Inspired Cuisine, published in 2018 by Chelsea Green Publishing. This is my new favorite cookbook using wild foraged foods. Viljoen knows her wildfoods and has chapters on 36 different plants, using them in everything from appetizers and cocktails to main courses, desserts, and all sorts of sauces, ferments, spice blends and salts. In her Introduction, she states: "Recognizing and exploring an environment through its plants is a vital way of orienting ourselves, of recognizing where we are, and of honoring it. For me, foraging is as much about learning from the plants around me as it is about promoting their best culinary qualities, and mitigating or transforming thier worst. It is a rewarding, exciting, and never-ending mission." I could not agree more! Her chapter on Sumac so inspired me, that I immediately followed her directions for ground sumac and made her Sumac Essence and Sumac Sugar. I am biding my time until Spring when some of these wild plants will be available for harvesting. Meanwhile, I am sitting by the woodstove, reading and dreaming of the reawakening of the earth and of all of our green-growing plant allies.