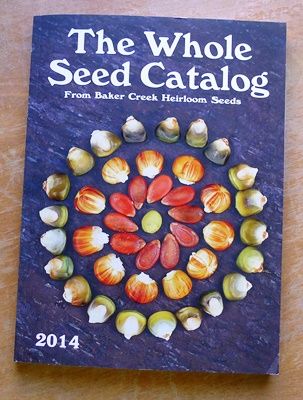 The folks at Baker Creek Heirloom Seeds have outdone themselves this time. The same company that's sold heirloom vegetable seeds since 1998 has produced a special catalog for 2014. And I mean special.
This catalog is one-half-inch thick and feels like a substantial book. Its 324 pages are filled with descriptions of more than 1500 heirloom vegetable, herb and flower seeds. The full-color images that illustrate the catalog are little works of art.
Each heirloom seed has a story. As  the catalog's introduction states, "These seeds bring history alive-literally! Seeds tell a story about our cultures and our families, our states and our nation."
However, the catalog is more than just a listing of seeds. It includes stories of heirloom seed gardeners, seed farmers and seed savers. There are recipes tailored to the heirloom vegetables that sprout from the seeds and helpful "how-tos" for planting and growing, for preserving and saving. The sidebar on "How to eat an artichoke" was especially useful.
One of the most interesting stories in the catalog is called "Travel to the Tribes: Seed Expedition to Old Siam" by Emilee Gettle. In this short story she describes her family's trip to Thailand in delicious detail. The seeds they brought home are treasured souvenirs.
This catalog is offered for sale ($7.95), and I think it's worth its weight in Yokahama squash. The story of how this winter squash evolved is just one of dozens of fascinating heirloom histories included in the "World's Largest Seed Catalog." Baker Creek continues to produce its free seed catalog , too. 
A Ukrainian seedsman, Ruslan Dukhov, is to thank for the new heirloom tomato varieties offered by Baker Creek next year. Gardeners are going to want to get their hands on the Green, Black, Pink and Yellow Vernissage varieties, known for their beauty and exceptional flavor. 
If you're an heirloom gardener, you'll want to have this catalog to help pass the cold winter days until it's planting time next year.
(I received a complimentary copy of The Whole Seed Catalog from Baker Creek Heirloom Seeds.)