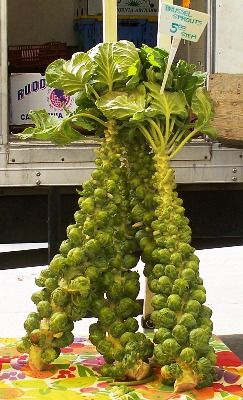 One of my friends and I were enjoying a leisurely fall morning strolling around the farmer's market when she suddenly stopped walking, pointed to a table of vegetables, and said, "What are those?"
She was looking at several tall stalks that looked like small trees loaded with miniature cabbages.
"Those are Brussels sprouts," I said.
She looked at me as if I were joking and then looked back at the neatly stacked stalks of sprouts. She then made a terrible face. "Ewww," is all she said.
I understand both of her reactions. Many people have never seen what these little cruciferous vegetables look like "in the wild." They're only familiar with the bins of carefully trimmed sprouts sitting in the produce section at the grocery store.
I also understand the face she made at the thought of eating them. Brussels sprouts used to be a dirty word around my house, too, until I experimented with roasting them instead of boiling them. Roasting turns them into a whole different vegetable.
Brussels sprouts belong to the mustard family (Cruciferae or Brassicaceae) that also includes cauliflower, broccoli, and cabbage. These vegetables got their cruciferous designation from their cross-shaped flower petals.
Research shows that cruciferous vegetables, like Brussels sprouts, contain certain chemicals which are thought to prevent estrogen-related cancers. To get the biggest health benefit from these hardy veggies, avoid recipes that recommend boiling which damages the vegetables' anticancer properties.
Brussels sprouts are high in fiber and a delicious source of vitamins A and C, especially if they're prepared as a delicious side dish that people will actually eat.
Because they're a cool-season veggie, Brussels sprouts are perfect for a fall weeknight dinner or to add to the Thanksgiving table.
Easy Roasted Brussels Sprouts Recipe
Ingredients

2 pounds fresh Brussels sprouts
2 Tablespoons extra virgin olive oil
1 Tablespoon chopped garlic
½ teaspoon dried oregano
½ teaspoon salt
Lemon–optional
Directions
Preheat oven to 450 degrees.
Wash Brussels sprouts.
Cut off stem, remove tough outer leaves.
Cut in half starting at the stem end.
Place in lightly greased baking dish.
Mix together olive oil, garlic, oregano, and salt in a small bowl.
Pour mixture over Brussels sprouts.
Toss gently to cover.
Roast sprouts for 15-20 minutes or until tender and lightly browned.
If desired, squeeze fresh lemon juice over sprouts before serving.