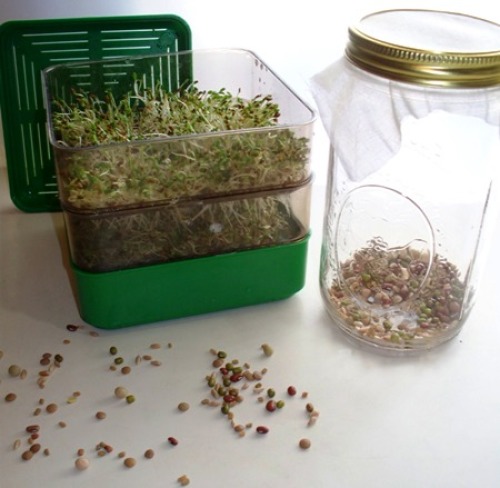 Grow Your Own Greens
Some of the freshest, most nutritious organic greens on the planet can be grown right in your kitchen without special equipment, complicated instructions or time-consuming techniques. All you need is a quart jar, a few tablespoons of sprouting seeds and water.
In about a week, you'll have a jar full of delicate sprouts you can sprinkle on salads, add to sandwiches or toss into soups for a delicious and healthful twist on your favorite recipes. Some say sprouts are the most nutritiously dense food one can grow.
Sprouts are also an economical alternative to buying greens at the grocery store. A small bag of seeds will grow into many delicious harvests. Another benefit is that growing sprouts is a great way to get kids involved in the kitchen. Because sprouts grow so quickly, they'll be able watch the entire process from seeding to rooting to eating.
How to Sprout
High-quality organic sprouting seeds can be found in natural food grocery stores, at online seed retailers, in garden centers and sometimes at home improvement stores. Seeds that are most popular for home sprouting include alfalfa, lentil, mung bean, clover, radish, sunflower and broccoli. There are also many seed blends available.
Each kind of seed offers a different taste experience, from slightly sweet to tangy, but all offer a way to make ordinary meals special.
Sprouts can be grown in a store-bought stackable tray system or in a simple quart jar. The steps are the same in either case—soak seeds overnight, rinse with cool water at least once a day and drain. Most sprouts will be ready to harvest in about one week.
To get started:
1. Buy the organic sprouting seeds of your choice.
2. Add 2 tablespoons seeds to a clean, dry quart jar.
3. Cover jar with cheesecloth, a nylon stocking or mesh screen; secure with jar ring or rubber band.
4. Cover seeds with water and soak overnight.
5. Drain water; rinse seeds with fresh water.
6. Swish water and seeds; drain.
7. Rinse seeds with cool water once a day and drain. The sprouts will be ready to harvest in about 7 days.
Use fresh sprouts immediately or store in the fridge for 3-4 days.
Using Sprouts in the Kitchen Here are just a few ideas for using fresh sprouts in the kitchen:

• Add a cup or more of bean sprouts to your favorite chicken or vegetarian stir fry recipe just before serving.
• Cut a pita pocket bread in half, stuff with tuna or chicken salad and top with alfalfa sprouts.
• Use sunflower sprouts in wraps filled with deli meat and cheeses for a tangy twist on a sandwich.
• Replace parsley with a handful of lentil sprouts in homemade chicken noodle soup.
• Top a cheese and tomato sandwich with alfalfa sprouts instead of lettuce.
• Create crunchy veggie tacos with black beans, salsa, cheese and broccoli sprouts.