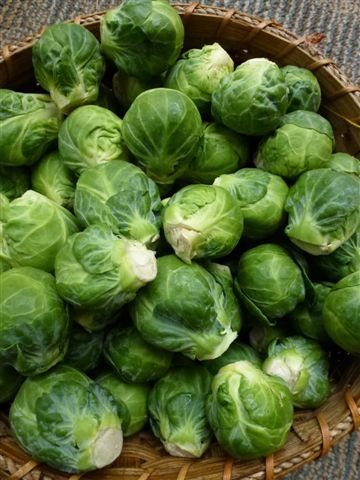 Serves about 4
About 1 pound brussels sprouts
2 to 3 tablespoons extra-virgin olive oil
1 to 2 large cloves garlic, minced
About 2 teaspoons whole-grain mustard
1 to 2 tablespoons tamari soy sauce
1 to 2 tablespoons good balsamic vinegar
1 tablespoon water
About 2 teaspoons pure maple syrup
Freshly ground black pepper or red pepper flakes, optional
I recently had a similar delectable brussels sprouts appetizer at Cappy's Restaurant in San Antonio, Texas, which is normally prepared with teriyaki sauce and shrimp; however, this time they prepared it without the shrimp for the vegetarians at our table. If you are in the San Antonio area, I recommend going to Cappy's for a lovely dining experience. Since I don't usually buy teriyaki sauce, I made this up with ingredients that I keep in my pantry.
I must say that I really do enjoy brussels sprouts, though I know there are many who say that they do not like them. Perhaps this recipe might change the minds of some of those anti-brussels-sprout types. The brussels sprouts turn dark because of the tamari and balsamic vinegar, so they might look burned. They are not; rather, they are savory and sweet and tart and salty and delicious. I nearly ate all of them by myself. For a nutty flavor, you could garnish them with about 1 tablespoon of toasted sesame seeds or a few tablespoons of toasted, sliced almonds.
Trim the sprouts of tough ends and outer leaves. Wash and cut the sprouts in half lengthwise. Heat the olive oil in a sauté pan over medium heat. Add the brussels sprouts and toss. Cover with a splatter guard, and sauté for about 10 to 12 minutes; reduce heat a bit if the sprouts are browning too fast. Stir occasionally. The sprouts will start to brown.
Add the mustard, tamari, balsamic, and water. Stir to combine, and continue cooking, stirring occasionally. After 5 minutes or so, add the maple syrup—but taste first since some balsamic vinegars are sweeter than others and you might not need the maple syrup. Stir and cook a few minutes more. Take a piece out and taste for doneness and seasoning; the sprouts should be dark in color. Adjust with a little more soy sauce or balsamic. When done, the brussels sprouts should be crisp tender, yet cooked. Give them a few minutes more if need be; I believe my total cooking time was nearly 20 minutes. Garnish with a sprinkling of freshly ground black pepper or hot red pepper flakes, if desired. Serve warm.