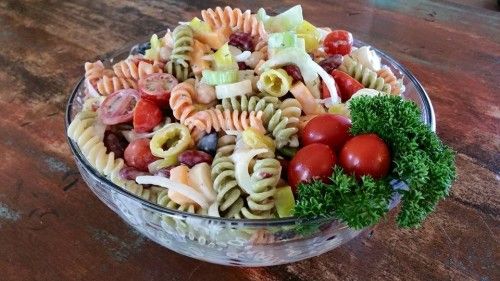 This refreshing and colorful salad is one of my go-tos when our family is invited to a summer BBQ. If you like pasta and veggies in a creamy vinegar sauce then you're going to love this.
It's a completely versatile side dish that can be modified to reflect what your family and guests like best as well as what happens to be in season around your place. I often add shaved carrots, fresh green beans or peas to this salad.
Fair warning: The ingredients below makes enough salad to feed a small army. So if you're serving anything less than a small army (say, just a family or two) sure to cut the recipe in half.
14 ounces garbanzo beans
14 ounces red kidney beans
14 ounces corn
14 ounces hearts of palm
8 ounces sharp cheddar cheese (cubed)
1 cup cut up sweet banana wax peppers
8 ounces chopped black olives
2 cups cherry tomatoes
2 cups chopped celery
2 spring onions (Mexican onions)
Tri-colored Rotini ot Fusilli pasta (corkscrew shapes)
2/3 cup rice vinegar (I use Nakano brand)
1 1/3 cup of your favorite creamy ranch dressing
1. Place the garbanzo beans, kidney beans, corn, hearts of palm, sweet banana wax peppers, olives, celery, spring onions, and cubed cheddar (and/or whatever vegetable your little heart desires) cheese in a large bowl.
2. On a stove set to high heat, bring a pot of water and a tablespoon of salt to a boil. Once the water is boiling turn the heat down to medium. Boil the pasta until it's "al dente ." Which is to say, don't cook it until it's mush! You want the pasta to have a little resistance to the bite.
3. Dump the pasta into a strainer in the sink so it can cool down.
4. While the pasta is cooling, add the ranch dressing and rice vinegar to the vegetables in the bowl.
5. Place the cool pasta into the vegetable bowl with the rest of the ingredients and toss well. You're looking for a clingy consitancy. But feel free to adjust the flavor to your liking (maybe you'd like more ranch dressing or more vinegar).
Place your Tangy Garden Pasta Salad into the fridge until you're ready to serve it. If you wait longer than an hour or so, you may have to add a little more rice vinegar because the pasta tends to suck it up.