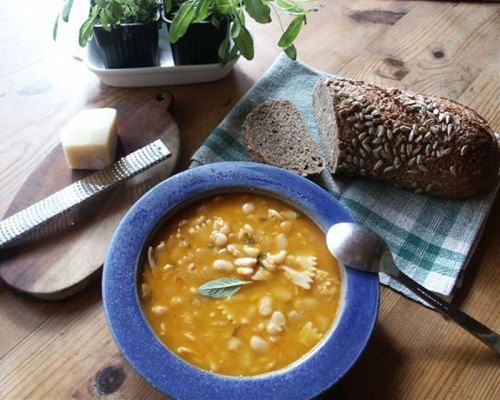 Ingredients
1-1/2 pounds white beans
1/3 cup olive oil
1-1/2 teaspoons salt
1 large onion, diced
8 garlic cloves, chopped
8 ounces small dried pasta
5 cups vegetable stock or water
1/3 cup tomato paste
3 tablespoons chopped fresh sage or 2 teaspoons dried crumbled sage
3 tablespoons chopped Italian parsley
Salt and freshly ground pepper
Sage leaves
Parsley sprigs
Olive oil
Freshly grated Parmesan or Pecorino cheese
One of my favorite cold-weather recipes, this easy, wonderfully hearty peasant soup is from Herbs in the Kitchen by Carolyn Dille and Susan Belsinger (Interweave Press, 1992). Traditionally, pasta e fagioli is made with dried white beans—and although I have never seen it prepared with any other kind—there is no reason you couldn't use any type of bean. I like cannelllini beans best and have also used Great Northern, navy and baby limas.
Serves 6 to 8
Soak the beans overnight. Pour off the soaking water and transfer the beans to a large soup pot. Cover the beans with 1 inch of water. Add 3 tablespoons of the olive oil. Cook the beans until they are tender, about 1 hour, adding 1-1/2 teaspoons salt at the end of the cooking time.
While the beans are cooking, soften the onion and garlic over moderate heat remaining olive oil. Bring ample well-salted to a boil to cook the pasta. Cook the pasta until it is just barely al dente and drain it.
Stir the pasta, onion, sage and garlic into the beans. Add the vegetable stock and the tomato paste and simmer over low heat for about 5 minutes.
Add the chopped parsley to the soup. Cook over low heat for 10 minutes. Adjust the seasoning with salt and pepper.
Rough-chop the sage and parsley leaves together for garnish. Ladle the soup into warm soup plates or bowls. Garnish with the herbs. Pass the olive oil and the grated cheese.
Read more about using sage in the kitchen