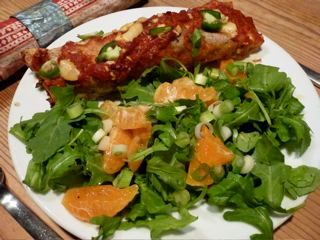 It is January and here in my zone 7 garden, my fall-sown coriander seed is still producing cilantro leaves. While they are not huge and hearty as they are in spring and fall–I am still gathering fresh leaves to brighten winter salads. Below is one of my favorite salad recipes featuring seasonal winter citrus fruits and cilantro, herb of the year 2017.
In the cold and drear of winter, it is always good to brighten our day as well as our spirits with the lively flavor of citrus. Besides the taste, their juicy goodness provides us with vitamins and minerals and combined with salad greens and the perky flavor of cilantro leaves and allium–creates a tasty salad treat. The following salad will enliven any meal–from a root vegetable casserole, Italian pasta dish, or any Southwestern-style recipe. Since I tend not to buy out-of-season tomatoes in the winter–I use fresh citrus with my salad greens–and they are even great on a taco salad with beans and avocado.
I use all kinds of oranges, tangerines and mini clementines, even grapfruit. Sometimes I slice them for a pretty cross section presentation, other times I just break them into segments. Often times I put the segments into the orange vinaigrette while I'm preparing the salad greens which gives them extra pizazz. If I have leftover vinaigrette I save it for another salad–however it is delicious on steamed beets and/or asparagus.
Orange and Coriander Leaf and Seed Salad
This salad is not for the timid! The combination of citrus, allium, and coriander in various forms titillates the taste buds with every bite. You can vary the lettuce with other salad greens like frisee, spinach or a bit of radicchio or arugula. I like this dressing, prepared with the optional zest, served with earthy spring vegetables: fresh steamed beets, baby carrots, new potatoes, and even asparagus.
Serves 4 to 6
1 head Boston or red leaf lettuce
1 cup fresh coriander leaves
2 or 3 medium to large oranges or tangelos or 3 to 4 tangerines or 4 to 5 clementines
1 small red onion, sliced into thin rings
1/2 cup freshly squeezed orange juice
1/2 cup olive oil
1 large garlic clove
1/2 teaspoon coriander seed, toasted and finely ground
1 teaspoon orange zest, optional
Salt and freshly ground pepper
Coriander flowers, optional garnish
Wash and pick over the lettuce, then tear it into large bite-sized pieces. Rinse the coriander leaves, then spin or pat them dry with the lettuce. Peel the oranges and cut them in half lengthwise. Seed them if necessary, then cut them crosswise into 3/8-inch slices. If you are using tangerines or clementines, you can just break them into segments. Soak the onion rings in a bowl of cold (which removes some of their pungency, mellows out their flavor and removes some of the aftertaste) water for 10 to 15 minutes. 
Combine the orange juice and olive oil in a bowl or measuring cup. Put the garlic through a press into the dressing and add the ground coriander, zest, salt, and pepper. Blend well with a fork and taste for seasoning. Add a few teaspoons of balsamic or red wine vinegar if you want more tang.
Drain the onions and squeeze or pat them dry. Arrange the lettuce and coriander leaves on a platter or salad plates. Place the oranges decoratively on top and scatter the onion rings over them. If you have coriander ?owers use them to garnish the salad; drizzle about half the dressing over it. Serve the salad immediately and pass the remaining dressing. Refrigerate extra vinaigrette for another future use.