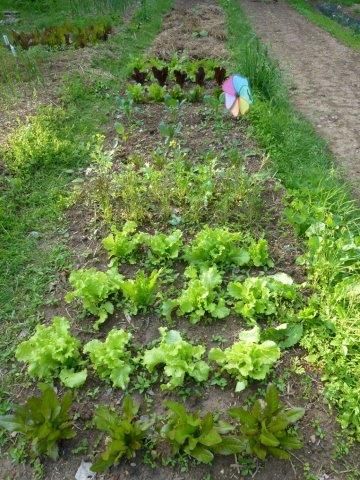 We've had a cool spring and a good amount of rain so this year the salad greens are phenomenal. And I don't just mean lettuce (although I love the choices we have)… no ho hum salads around here. If you grow some of these greens–and it's not to late to plant them–every salad will be a chef's delight.
It is difficult to choose which lettuce or salad blends to plant because we have a plethora of choices to choose from. I like romaine, butterhead and leaf lettuces and I enjoy them in every color from lime green to dark leafy green and red, pink or speckled. It is fun to grow a variety of colors which appeals to the eye, not to mention texture and taste. Fortunately, my gardening friend Deborah Hall, loves salad as much as I do and shared all of her seedlings with me, so I am salad rich.
Aside from the lettuces, there are chicories, mustards, mizuna, arugula, tatsoi, baby beet greens and chard leaves. And of course salad herbs like parsley, cilantro, chervil, dill, fennel, and sorrel–I grow them right alongside the other greens in the salad bed–so I can cut a handful to add to the greens when I'm harvesting. These salad herbs and greens add wonderful dimensions to a salad from tart and bitter to spicy and pungent or herbal.
Before dinner, I head ouside with my favorite garden scissors and the bowl of my salad spinner and clip the leaves right into the bowl. With all of the rain the greens have been pretty dirty. When I bring the bowl of greens into the kitchen, I put it right into the sink and fill it with cold water and add 2 or 3 tablespoons of vinegar. The vinegar causes the grit to fall right to the bottom. After I swish the greens about a bit, I sort through the greens, removing any brown or bug-eaten leaves, putting the washed salad into the spinner basket. When all of the salad is picked over, I am left with a bowl full of gritty water, which I carry outside or into the greenhouse and water plants with it. Then I rinse out the bowl and either give the greens one more washing if they were really gritty, or spin the salad dry. Dump out any water and spin again.
Often I make a simple vinaigrette and serve it over the greens without adding other ingredients. Other nights, I might choose to add adornments–like last night I added roasted golden beet slices, salted pistachios and a little grated Asiago cheese–and dressed it with a balsamic vinaigrette. 
I'm including pix of my salad bed and some of my favorite salad greens which you might like to try; it's not too late in the season–most of these plants are ready to start harvesting in about 30 days!