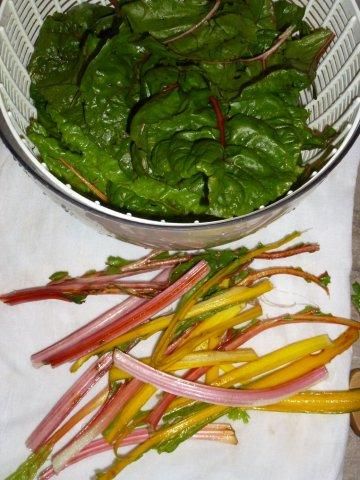 Ingredients:
Makes about 12 rolls
About 15 large chard leaves
About 1 1/2 to 2 tablespoons extra-virgin olive oil
1 small-to-medium onion, chopped
1 sweet red paprika or Italian frying pepper or 1/2 red bell pepper, chopped
1 or 2 serrano or jalapeno peppers, minced fine, optional
4 to 6 cloves garlic, minced
About 2 cups cooked grain (I used quinoa and brown rice)
About 1 cup cooked beans (I used black beans)
About 1/2 teaspoon each: ground cumin and coriander seed and paprika
Salt and freshly ground pepper
About 1 cup fresh salsa combined with 1 cup enchilada sauce or tomato sauce
These are sort of like cabbage rolls, except using Swiss chard. One does have to remove the thick stem from the leaf, otherwise they won't roll, which leaves one with a leaf split down the center except for the tip end. If you just sort of hold them together and roll, the tip end will cover everything up. Use anything you like to fill them-I just happened to have quinoa and brown rice so I combined them-you could use either grain on their own, or try whole-wheat couscous, bulgur, faro, what have you…
This is a rather loose recipe with room for interpretation and creativity. I had black beans, but you could use pinto, cannelloni, or another bean. An average adult usually eats two or three rolls. The rolls will vary in size according to the leaves you harvest. I love spicy food, so for the sauce I used equal amounts of homemade salsa mixed with enchilada sauce; however, you could use tomato sauce if you prefer.
Wash the leaves and carefully remove the stems. Any leaves or pieces that aren't a good size for rolling, cut into shreds and set aside. Chop a generous half of the stems and save the others for making stock or soup.
In a large skillet heat the oil over medium heat; add the onions and chard stems and sauté for a few minutes, stirring occasionally. Add the peppers and stir for another 3 or 4 minutes. Add the garlic, grains, beans, reserved, shredded chard, spices, season with salt and pepper, stir well, cover and heat through. Taste for seasoning and remove from heat.
Preheat the oven to 350º F. Place a chard leaf on a cutting board and put about 1/3 to 1/2 cup of the filling on the bottom part of the leaf (estimate what you think the leaf can hold). Holding the leaf together, carefully roll the leaf around the filling, ending with the tip and place the roll in an oiled baking dish. Repeat this with the rest of the leaves until you have used up the filling.
Combine the two sauces together, or use a sauce of your choice, and spoon it over the rolls. Bake for 15 minutes, reduce heat to 300º F and bake for 10 to 15 minutes more until they are bubbling around the edges and heated throughout.