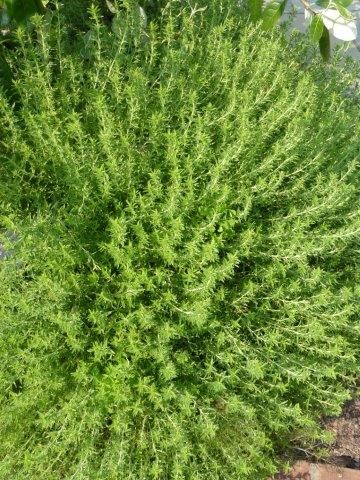 Ingredients:
Makes about 6 cups
3 large garlic cloves
1 small-to medium onion
6 medium to large jalapeno or serrano chiles, halved, stemmed, and seeded
About 2 pounds ripe tomatoes or canned tomatoes
About 2 tablespoons fresh minced savory leaves
About 2 to 3 tablespoons chopped fresh cilantro leaves, optional
About 1 1/2 cups fresh-cooked corn, cut from the cob
1 can black beans, drained and rinsed (about 1 1/2 cups)
About 1/2 teaspoon salt
About 1 tablespoon fresh squeezed lime juice
In my last blog, I said that I would post a recipe from my program on "Seasoning with Savory" which I gave at the IHA conference in Canada. Here is a seasonal salsa which features Savory, which will be Herb of the Year for 2015. Both summer and winter savory are ready for harvesting in my garden. Here is a simple and tasty summer salsa featuring savory and a few pix with ways to preserve savory for seasoning throughout the year!
This is a substantial salsa, a veritable fiesta of flavors and colors. When I use corn in salsa, I like to grill it first; if not, steam it briefly and cut it from the cob. I make salsa all of the time without using a recipe, so it varies with what is in season and what I have on hand. Sometimes, I add corn or black beans, or a teaspoon of freshly ground cumin. I often use oregano or sage, or even a little Mexican mint marigold in place of cilantro, however I use savory when I add beans and corn. Substitute some or all of the tomatoes for green tomatoes or tomatillos, and use scallions instead of onion. I use whatever chile I bring in from the garden, sometimes a combo of different chiles, and occasionally I use roasted ones.
Peel the garlic and onion. Cut the onion into eighths. Peel and core the tomatoes and cut them into quarters.
Chop the vegetables finely by hand and toss them together with the savory, cilantro, corn and beans, salt and lime juice.  
Or in a food processor, pulse the garlic, onion, and chiles until coarse chopped. Add the tomatoes and savory and pulse until it is a coarse salsa texture. The salsa should have some texture with small bits of vegetables. Stir in the chopped coriander, corn and beans, salt, and lime juice.
Taste for seasoning and adjust with salt or lime juice. Serve immediately, or let stand so the flavors develop a bit before serving. Serve as a relish or dipping sauce.