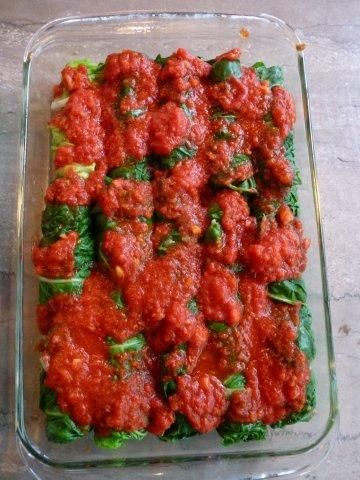 Ingredients:
Makes about 30 cabbage rolls
6 cups cooked brown rice, or other grains; salt lightly after cooking
30 cabbage leaves, washed and trimmed of thick stems
About 3 tablespoons olive oil
1 medium onion, chopped
Generous 2 cups coarsely chopped or shredded cabbage leaves
1 or 2 hot peppers, minced
5 or 6 large garlic cloves, minced
1 1/2 cups red lentils
About 4 cups water or veggie stock
2 bay leaves
1 generous teaspoon each dried marjoram leaves and dried basil or thyme leaves
1 teaspoon paprika
1 to 2 tablespoons tamari soy sauce or Bragg's aminos
Salt and freshly ground pepper
1 teaspoon red pepper flakes, optional
1/4 to 1/2 cup fresh chopped parsley
Generous cup walnuts, coarsely chopped
1 quart tomato sauce
These cabbage rolls make a hearty and tasty vegetarian main course; I can eat two, maybe three if there isn't much else, however a hungry appetite might be able to eat four or five rolls. This recipe makes two large pans of cabbage rolls-enough for a party-or have one for dinner and freeze a pan. Just cut the recipe in half if you don't want that many; it's just while you are at it, you might as well make a lot. This is a good project to do with a friend.
I used brown rice and quick-cooking red lentils in this batch, however you could use quinoa, bulgur, millet, faro, couscous or any grain in place of, or in combination with the rice. As for legumes, the red lentils are fast and easy–or use precooked green lentils–or beans instead. The nuts can also be varied; walnuts are so good for us, I tend to use them often, although pecans, almonds, cashews, even some pumpkin or sunflower seeds would be good.
Use a regular cabbage or Napa-style also works well-the latter's leaves are actually easier to separate-however their thick ribs need to be removed. Cut across the root end to release the leaves. You will need at least 30 outer leaves, so that will be at least two cabbages.
Cook the rice or other grain ahead of time. If you aren't using the fast-cooking red lentils, other lentils or beans will also need to be precooked; you will need about 3 to 4 cups cooked legumes or beans. Have the cabbage leaves washed and trimmed of their large stems; don't worry about the split leaf as you can hold it together as you roll it around the filling. Oil two 9- x 13-inch casserole dishes.
In a large sauté pan or skillet, heat the oil over medium heat. Add the onion and stir for a few minutes, then add the cabbage and hot peppers, stir and cover for 5 to 7 minutes. Add the garlic and dried lentils, stir, and cook for a few minutes. Add the water, bay leaves, marjoram, basil or thyme, tamari or Bragg's and season with salt and pepper. Stir well, cover and bring to a simmer, then reduce heat and cook at a bare simmer until lentils are cooked, about 15 to 20 minutes, stirring occasionally. Taste for seasoning-adjust with salt and pepper, maybe a bit more tamari, red pepper flakes if desired, and parsley; stir to mix.
Meanwhile, in a large pan, heat about 2 quarts of water to simmering. Drop the cabbage leaves in one at a time and almost immediately, remove them using a large slotted spoon or tongs. They will wilt quickly-you just want them to be pliable for rolling-remove them to a bowl to drain and use as needed. (This is where a cooking partner helps.)
Set up a rolling area with a cutting board to roll upon and somewhere to place the hot pan of filling as well as the casserole dish. Toss the chopped nuts into the filling and stir.
Place a wilted cabbage leaf on the board and place about 1/3 to1/2-cup filling (depending on the size) on the lower, end of the leaf. Don't overfill or it will to hard to roll. Roll the leaf, holding the edges together, over the filling, then fold in either side, (sort of like a burrito) and then roll the rest of the way up. Place the cabbage roll in the casserole dish and continue with the rest.
Cover prepared cabbage rolls with tomato sauce, using about 2 cups for each pan. At this point, the cabbage rolls can be covered and frozen, refrigerated for up to 8 hours, or baked. If baking right away, preheat oven to 375º F and bake for about 35 to 40 minutes until bubbling and hot through. Serve hot.
If the rolls have been refrigerated, allow them to sit at room temperature for an hour before baking. If frozen, remove from freezer in the morning and allow to thaw in the refrigerator until dinner time, or at room temperature until thawed.