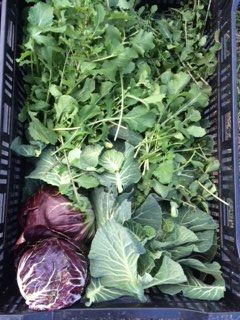 Let me tell you, we are eating some greens here in Maryland. We've had an extremely mild winter here on the Mid-Atlantic East Coast, so the cruciferous or cole crops also known as brassicas, are just honking in the garden. Floating row cover truly extends the winter growing season and I am an advocate of it. It also keeps the ever-present grazing deer and rabbits from beating me to the harvest. Herein are a few inspired and delectable dishes that I have prepared from the green bounty.
My neighbor, Denise Sharp of Sharp Farm called me last week when there was a prediction of freezing nighttime temps, to come and harvest from her winter garden. Although I do have many varieties of kale, swiss chard, mustards and broccoli, cilantro and Amsterdam celery growing under hoops and floating row cover, Denise offered cauliflower, Brussels sprouts, arugula and raddicchio. So I loaded up baskets and boxes and pruners and bundled up to harvest local bounty. (www.sharpfarm.com)
Greens are good for us and I am eating them everyday. Having some family members with thyroid issues, they are often advised not to eat the brassicas due to the goitrogens. "The way that goitrogens work is that they inhibit iodine metabolism. With regards to thyroid health, iodine is important in the formation of thyroid hormone. As a result, if iodine cannot be properly utilized by the thyroid gland, then the formation of thyroid hormone won't take place." (https://www.naturalendocrinesolutions.com/articles/goitrogens-thyroid-inhibiting-foods-you-should-avoid/)
The author of the link and quote above also states: "By the way, some sources do show that cooking these foods may destroy the goitrogenic activity. I'm not sure if this has been fully confirmed through research studies, and so while it might be okay for someone with hypothyroidism to eat cooked cruciferous vegetables and other goitrogenic foods regularly, I still would be cautious about consuming too much." So it sounds, if you have any thyroid problems, the healthy, delicious cruciferous vegetables should be eaten in moderation (check with your healthcare provider).
For our holiday lunch, I created an egg dish featuring baby Swiss chard leaves, onion and shiitake mushrooms–I sauteed these with some garlic in olive oil and transferred them to a baking dish. I spread them out and seasoned them with sea salt, black pepper and freshly grated nutmeg and then crumbled feta cheese over all. Then I beat a dozen eggs with about 1/2 cup of half-and-half cream and seasoned them with salt and pepper and poured it over the sauteed vegetables. Bake at 350-degrees F for about 30 minutes until set, though not dried out.
For a vegetable side, I halved Brussels sprouts and tossed them with about an equal amount of 'Red Jewel' sweet potatoes (my sister Doneth brought them up from South Carolina), which I quartered lengthwise and cut crosswise into slices. I transferred them to an oiled casserole dish along with some chopped red onion and then made a little sauce using about 1/4 cup olive oil, 2 to 3 tablespoons balsamic vinegar, 1 heaping tablespoon Dijon-style mustard, about 1 tablespoon Bragg's Aminos or tamari soy sauce, 1 tablespoon water, 1 teaspoon crumbled sweet marjoram and 3 cloves crushed garlic, seasoned with salt and pepper. Stir the sauce together and drizzle over the prepared vegetables. Bake at 400-degrees F, stirring a few times, for about 35 to 40 minutes until vegetables are slightly browned and tender, though not overcooked. These were a hit!
That evening, I brought the green vegetables to my niece's for supper–I simply steamed a large amount of broccoli–it is so sweet and tender it only takes a few minutes to cook. I drizzled it with olive oil and tossed it with a few cloves of pressed garlic, salt and pepper and it was perfect.
The salad used only fresh garden leaves: 'Black-Seeded Simpson" lettuce, arugula and red raddichio. Then I used fresh tangerine segments which I halved and removed seeds from and soaked in some fresh-squeezed juice; red onion slices which I soaked in ice water and squeezed dry; blanched and toasted almonds; they were placed on the salad leaves in that order. The dressing was made from the orange juice that the segments were soaked in, olive oil, toasted pumpkin seed oil, white balsamic flavored with orange and vanilla, garlic, salt and pepper. What a colorful and mouthwatering treat!
Wishing you a bountiful season and a happy, healthy and herbal new year! Eat well = Be well.