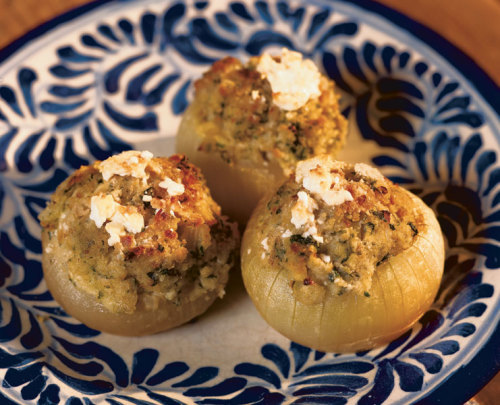 Ingredients:
4 jalapeños or other fresh chile peppers
2-1/2 Tbs. olive oil
4 medium sweet onions
1 tsp. butter
1/2 cup finely chopped parsley
1/4 cup heavy cream
Salt
Freshly ground pepper
1/2 cup plus 4 tsp. feta cheese, crumbled
1/2 cup fresh breadcrumbs
3/4 cup chicken or vegetable stock
4 servings
Preheat oven to 500°F. Place the chiles on a cookie sheet, make a small slit in the side of each pepper, and roast for 10 min. or until blackened on all sides. Remove the chiles and turn the oven down to 400°F. Wrap the peppers in foil for a few minutes, then peel and remove seeds, being sure to wear rubber gloves. Purée in a blender or food processor with 1-1⁄2 Tbs. of the olive oil.
Wrap the onions, in pairs, tightly in tin foil and bake for 45 min. Remove from the oven and let cool slightly. When the onions are cool enough to handle, strip off the skins. Carefully slice off the root end at the base. Slice off the stem end about 1⁄4 of the way down the onion. Scoop out the interior of the onion using a melon baller or a small, sharp knife. Reserve the insides of the onion. You want 4 hollow onion shells with sides about 1⁄4 in. thick and the bottoms intact.
Finely chop the reserved onion and measure out 3⁄4 cup. In a medium skillet, heat the remaining 1 Tbs. olive oil and the butter over moderate heat. Add the onion and cook 5 min., stirring frequently. Add 1 to 1-1⁄2 tsp. puréed chile pepper, the parsley, and cream and cook another 2 min. Remove from the heat and cool slightly. Season with salt and pepper, add 1⁄2 cup feta cheese, and the breadcrumbs. Taste for spiciness. You want the stuffing to have a bite; stir in more pepper purée if needed.
Divide the stuffing among the 4 onions, pressing down to pack the onion shells and doming the stuffing on top. Place the stuffed onions in a shallow casserole and pour the stock around the onions. Bake for 30 min., basting the onions once or twice. Sprinkle 1 tsp. of the remaining feta on top of each onion, baste, and bake another 10 min., or until the cheese is melted and bubbling.
Recipe by Kathy Gunst
October 1998
from issue #17