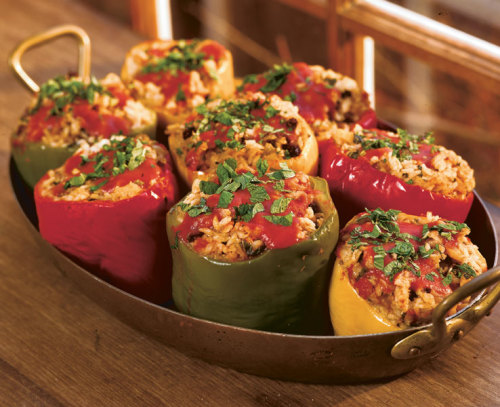 Ingredients:
3 cups cooked white rice, cooled
8 green, red, or yellow bell peppers, or a combination
2-1/2 Tbs. olive oil
2 medium onions, chopped
4 cloves garlic, chopped
Salt
Freshly ground pepper
2 tsp. ground coriander
2 tsp. ground cumin
2 Tbs. dried oregano
1 tsp. ground cinnamon
1 cup cashews or walnuts, chopped
1 cup dried currants or raisins
1 cup chopped dried apricots
1/4 cup plus 2 Tbs. chopped fresh mint
1/4 cup fresh lemon juice
Dash cayenne pepper
2-1/2 cups tomato sauce, homemade or canned
Extra olive oil
Extra lemon juice
Fresh mint for garnish
8 servings
Place the cooled rice in a large bowl, stirring to separate the grains.
Preheat the oven to 400°F. Cut the tops off the peppers and use a small knife to remove the ribs and seeds from inside the peppers, being careful not to pierce the skins. Very carefully, cut a thin slice off the bottom of each pepper so they sit flat.
In a large skillet, heat 1-1⁄2 Tbs. olive oil over moderate heat. Add the onions and half the garlic, season with salt and pepper, and sauté, stirring occasionally, for 8 min. Add the coriander, cumin, oregano, cinnamon, and the remaining tablespoon of oil, and cook for 30 seconds. Stir in the nuts, the remaining garlic, currants, apricots, and 1⁄4 cup of the mint, and cook about 5 min., or until the scent of the spices is released into the air.
Add the onion-spice mixture to the rice and stir well. Add the remaining mint, the lemon juice, and cayenne, and taste for seasoning.
Divide the mixture among the 8 peppers, pressing down on the stuffing to pack well. Place the stuffed peppers in a shallow roasting pan and top with half the tomato sauce. Add the remaining sauce and 1⁄2 cup water to the bottom of the pan and bake about 45 min. Baste the peppers with the sauce once or twice. If the sauce appears to be drying out, add another 1⁄2 cup water. Serve hot, or at room temperature, drizzled with olive oil and lemon juice, and garnished with fresh mint.
Recipe by Kathy Gunst
October 1998
from issue #17