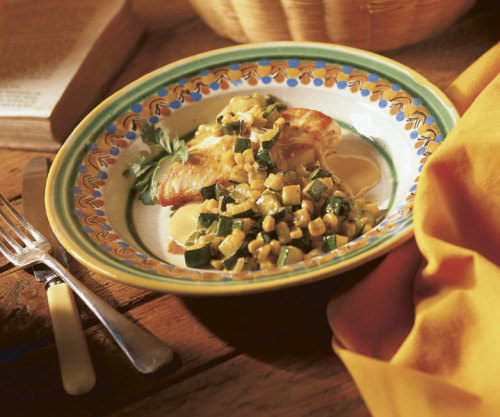 Ingredients:
1 lb. (4 small) zucchini, cut into
1/2-in. pieces
1 scant tsp. salt
1 poblano chile
1 Tbs. unsalted butter
1 Tbs. vegetable oil
Kernels cut from 2 ears fresh sweet corn (about 1 cup), or 1 cup frozen corn, defrosted
1/2 medium white onion, thinly sliced
2/3 cup heavy cream or crème fraÎche
4 servings
Roasted poblano chiles and cream—one of the showstoppers of Mexican cuisine—welcomes zucchini and corn into the classic mix. As is, it's an unbeatable taco filling; with grilled or broiled chicken, the combination becomes an unforgettable main dish.
In a colander, toss the cut zucchini with the salt; let stand over a plate or in the sink for half an hour. Rinse and dry the zucchini.
Roast the chiles directly over a gas flame, or on a medium-hot gas grill, or 4 in. below a very hot broiler. Turn occasionally until blistered and blackened on all sides, 4 to 6 min. for the flame or grill, about 10 min. for the broiler. Cover with a kitchen towel and let stand about 5 min. Peel off the charred skin, cut out the seed pod, then quickly rinse to remove straggling bits of skin and seeds. Cut into thin strips.
Heat the butter and oil over medium-high in a skillet large enough to hold the zucchini in one layer. Fry the zucchini for 8 to 10 min., stirring frequently, until it's browned and just tender. Remove the zucchini, draining as much butter and oil as possible back into the pan. Reduce the heat to medium.
Add the corn kernels, poblano, and onion to the skillet. Stir regularly until the onion is lightly browned, 8 to 10 min.
A few minutes before serving, stir in the zucchini and cream, and simmer until the cream is reduced to a thick glaze. Add a little salt, if necessary. Serve warm.
Recipe by Rick Bayless
April 1998
from issue #14