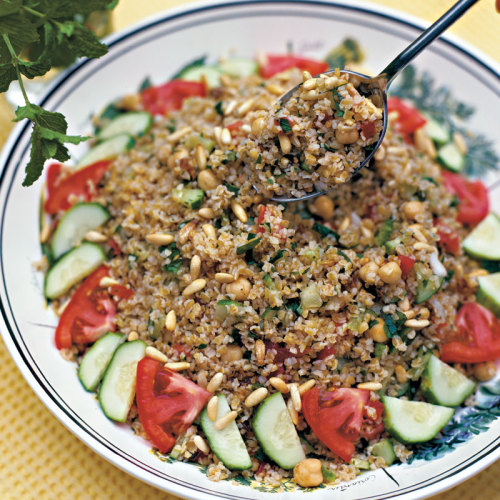 Recipe by Susan Belsinger
August 1999
from issue #22
Tabbouleh with Mint
6 to 8 servings
This is a traditional-style tabbouleh with the added flavors of garbanzos, pine nuts, and currants. It can stand on its own as a vegetarian main course served on fresh greens, with good, crusty bread and perhaps some olives and cheese. I use spearmint rather than peppermint because it is closer in flavor to the mint used in Middle Eastern countries. If you have them on hand, scallions are a nice substitution for the onion.
1-1⁄2 cups bulgur wheat
1-1⁄2 cups boiling water
1 medium-large ripe tomato, diced
1 medium cucumber or 2 pickling cucumbers, diced
Generous 1⁄2 cup diced onion
1⁄4 cup olive oil
1⁄4 cup freshly squeezed lemon juice
1 tsp. salt
Freshly ground black pepper
1 large garlic clove, minced
15-ounce can garbanzo beans, drained (or 1 cup cooked garbanzo beans)
1⁄3 cup lightly toasted pine nuts
1⁄3 cup currants, soaked in water for 10 minutes and drained
1⁄2 cup chopped mint leaves
1⁄2 cup minced parsley leaves
A few pinches each: cinnamon, allspice, and cayenne
Put the bulgur in a large bowl and add the boiling water. Stir and let stand for 30 to 60 minutes. If necessary drain excess water from the bulgur. Add the tomato, cucumber, and onion, and season lightly with salt and pepper.
In a small bowl, combine the oil, lemon juice, salt, pepper, and garlic and stir well with a fork.
Add the garbanzos, pine nuts, and currants to the bulgur. Sprinkle the mint and parsley over all and add the spices. Drizzle the dressing over the tabbouleh and toss well. Let the salad stand for about 30 minutes before serving and taste again for seasoning; you may need a little more oil, lemon juice, salt, or pepper.
The salad can be prepared in advance and kept at cool room temperature, or if refrigerated, allowed to come to room temperature before serving.