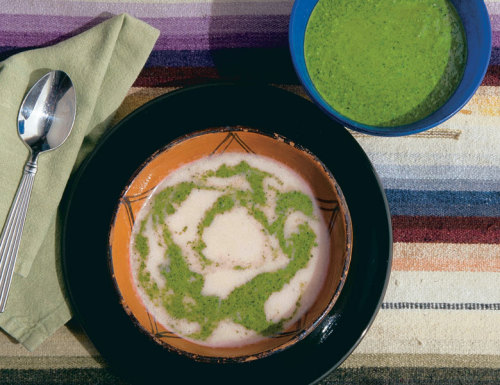 Ingredients:
Soup:
6 ears of corn
1 Tbs. butter or corn oil
1 small onion, sliced thin
1/2 cup grated waxy potato
7 cups water or quick stock (recipe follows)
1 tsp. salt
1/2 cup cream or half-and-half (optional)
Cilantro salsa (recipe follows)
Quick Stock:
1 Tbs. vegetable oil or butter
1 onion, sliced thin
1 celery stalk, sliced
1 carrot, sliced
Bouquet garni, including plenty of parsley stems
The corn cobs
Tomato trimmings or a whole tomato
2 quarts water
1 tsp. salt
Cilantro Salsa:
1 jalapeño pepper, seeded
1 large bunch cilantro, stems removed, about 2 cups
1/2 cup basil leaves
2 Tbs. mint leaves
1 plump clove garlic
1/4 cup water
1/2 cup plus 2 Tbs. extra-virgin olive oil
1/4 tsp. ground cumin
1/2 tsp. ground coriander
2 scallions, sliced thin
1 to 2 limes
Salt
6 servings
Shuck the corn, remove the silk, and slice off the kernels. You should have about 4 cups. Use the flavor-filled cobs in the stock if you're making one.
In a wide soup pot, melt the butter, then add the onion, potato, and 1 cup of the water. Cover the pot and stew over medium heat until the onion is soft, about 10 min. Add the corn, salt, and remaining water and bring to a boil. Then simmer, partially covered, for 10 min. Cool briefly, then purée in a blender in two batches, allowing 3 min. for each batch. Pass through a food mill or fine strainer, then return the soup to the stove and stir in the cream, if desired. Season with a little pepper and more salt, if necessary. Ladle into bowls and make a swirl of the Cilantro Salsa in each.
Heat the oil in a saucepan, add the onion, celery, and carrot and cook over medium-high heat, stirring occasionally, until the onion has begun to color. Add the rest of the ingredients and bring to a boil. Simmer for 25 min., then strain, pushing as much liquid as you can from the vegetables.
Chop the pepper, herbs, and garlic very fine, then combine with the water, oil, spices, and scallions. Add the juice of 1 lime and 1⁄4 tsp. salt, or more to taste. Adjust the balance of lime juice to oil if needed. Alternatively, chop everything coarse, then purée in a blender or food processor until smooth.
Recipe by Deborah Madison
August 1997
from issue #10