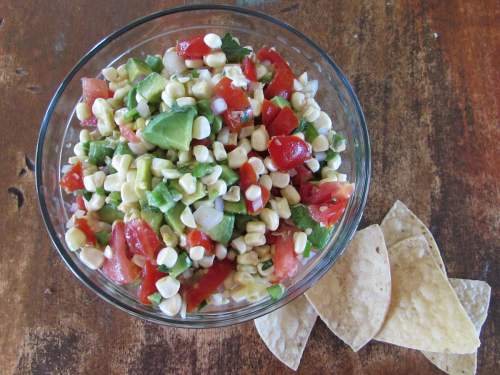 I'm a freak for all kinds of salsas. I have no idea how many salsa fans are actually out there, but I'm guessing that if I started a salsa Facebook page or Instagram that I'd have 500 followers by this afternoon. Just sayin' that I don't think that I'm the only one.
I don't just love how salsas taste, I also love how they look. I love how they can give the most nondescript piece of food instant class — just by sitting there casually on top. But, yeah, I mostly love how they taste.
I've got to share with you one such refreshing recipe that my bestie and me came up with this summer. If the following ingredients aren't loitering about your garden this year, no problemo.
Head directly to your local farmer's market and get the freshest ingredients that you can. This means that ideally the corn would have been picked off the stalk today. Do the best that you can.
Corn & Avocado Salsa Ingredients:
2 Cups of corn (raw)
1 1/2 Avocado (diced)
1 Cup cherry tomatoes (diced)
1/4 Cup red onion (diced — or more if you're an onion fan)
2 Tbsp cilantro (chopped)
1/2 of a jalapeño (seeded & diced up into bitty pieces)
1 big garlic clove (chopped)
1 1/2 Tbsp of lemon or lime juice
1 tsp sugar
1/4 salt
Bowl
Pro Tip: If you have a friend over, then I suggest doubling the ingredients.
This is so easy to toss together because you literally put all the ingredients (except the avocados) into a bowl and then — toss it all together. Don't forget to get a little personal with it (salsas are very forgiving). For example, if you hate cilantro; by all means leave out the cilantro. If you live for garlic, toss in some more garlic.
After I've blended the fresh ingredients really well, the only step that I (usually) don't skip is to let the entire motley crew hang out together (covered) for an hour or two in the fridge. Salsa tastes great no matter when you eat it, but letting the flavors seep into one another before serving adds some magic to the flavor.
If you've gotten this far into the recipe then you have to be wondering "When is she going to add the diced avocado?" I add it now. I toss it into the bowl just before serving so that it stays firsm, fresh-and-green-looking. 
Bring your summer corn and avocado salsa to a summer BBQ with homemade flour tortilla chips and you will be invited back. Promise.