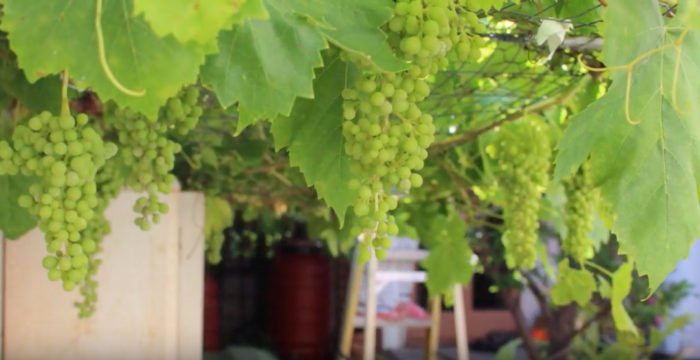 Phan Yamada shared these photos of a sustainable garden in Los Angeles.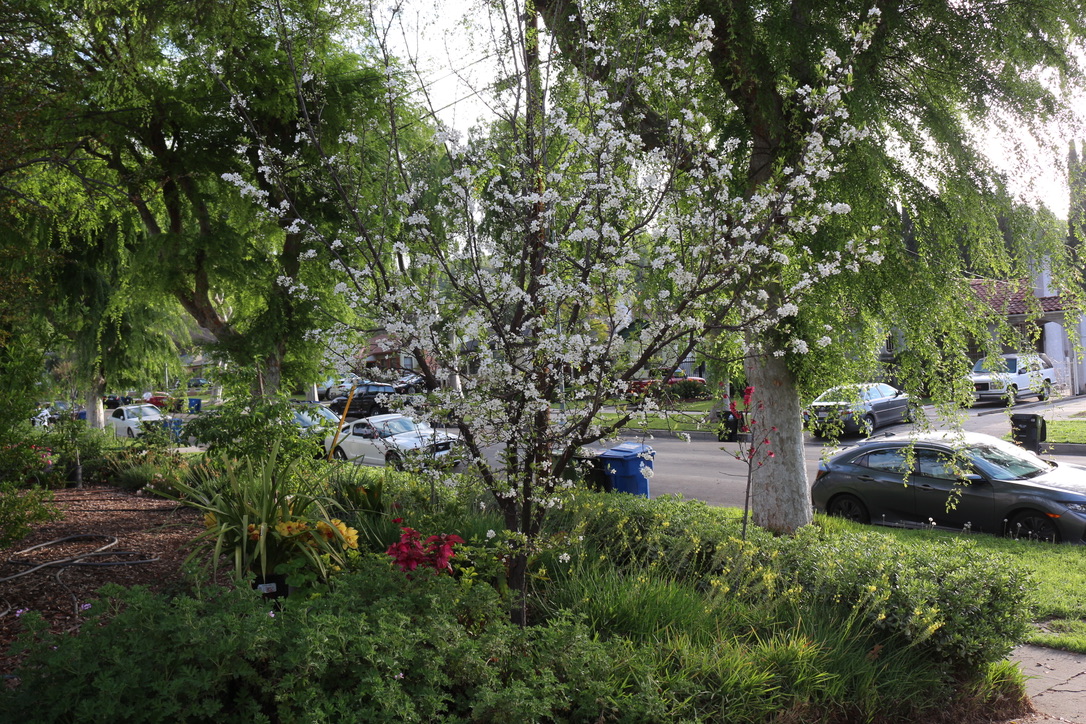 We mulch with wood chips (free from the city) to hold rainwater from our roof. The deep mulch holds in moisture very well. We have planted the edges with mock orange (Philadelphus) and bulbs for erosion control. We have planted some fruit trees with beautiful flowers (red baron peach, burgundy plum, snow queen nectarine, and four other peach varieties). These trees produce a lot of fruits in summer. We grow fragrant plants such as mosquito plant, rosemary, and lavender. The surrounding drought-tolerant plants do well too (not in picture: pomegranate, ginko, and shade-tolerant vines). The tall Chinese elms (Ulmus parvifolia, Zones 4–9) to the east offer medium shade from noon sun, but the canopy is high enough to let the morning sun in. This bed is also sheltered from the west by our one-story house.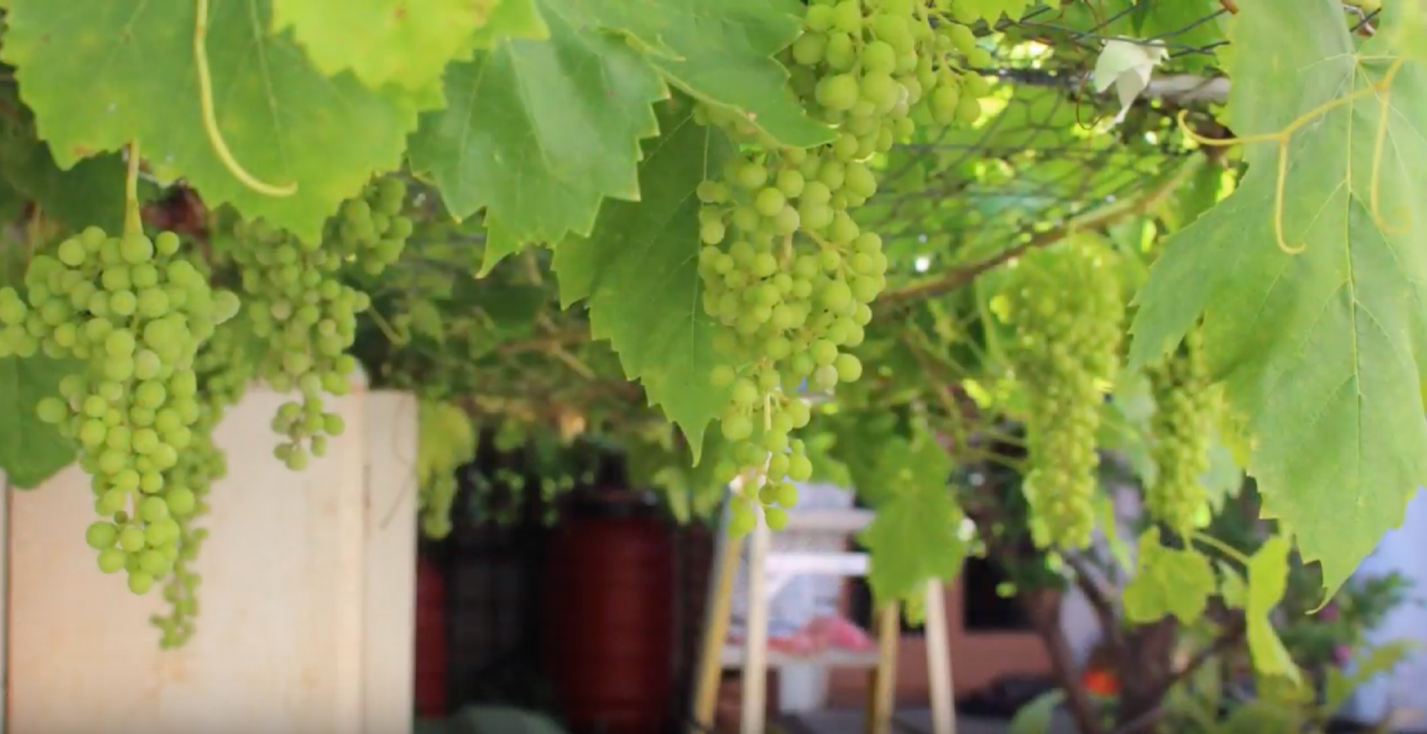 To reduce the heat from the southern face of a wall, we strung up a grape trellis ('Perlette'). This vine gives us a lot of grapes to make wine. We also plant a Santa Rosa plum in this courtyard. This tree has a lot of flowers with a sweet smell, and the fruits are delicious and beautiful. We also use this area to keep our outdoor orchids when not in bloom.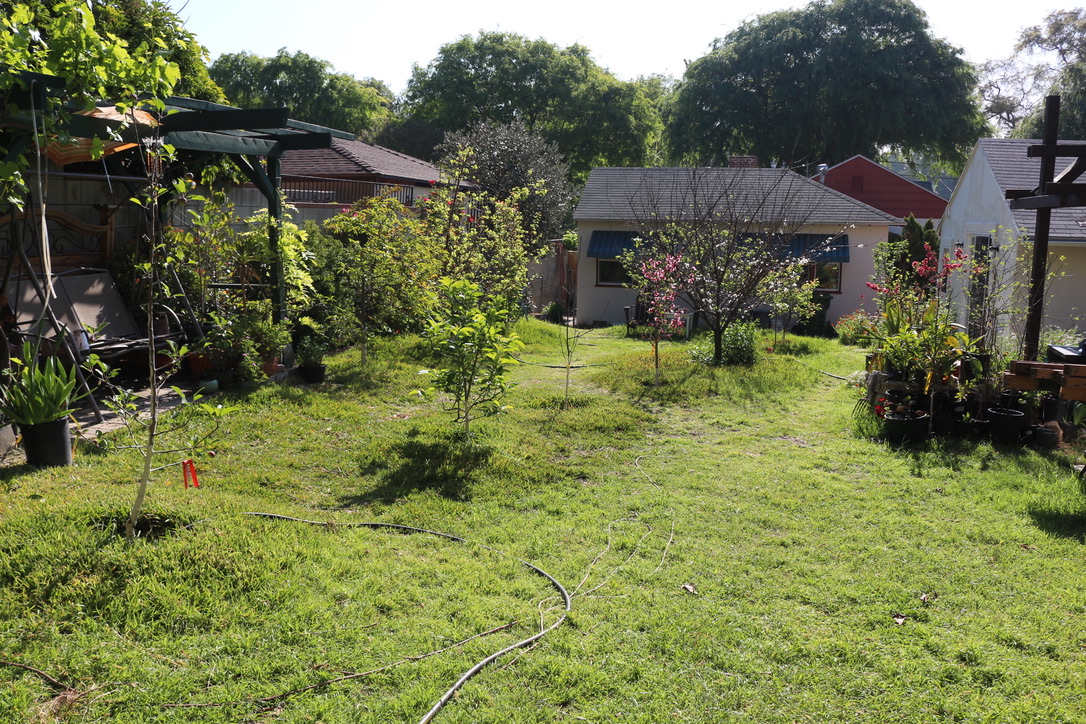 These two rows of trees are so beautiful in spring when they are full of flowers: white apricots, hot pink double-delight nectarines, red-baron peaches, and light pink apples. A rose garden is closer to our window bedroom so that we can see and smell the roses from our bed. The grass uses very little water, as it is mostly shaded in summer and we don't fertilize it! The south face of the wall has jasmine, bay laurel (Laurus nobilis, Zones 7–10), and another grape trellis to absorb reflected heat.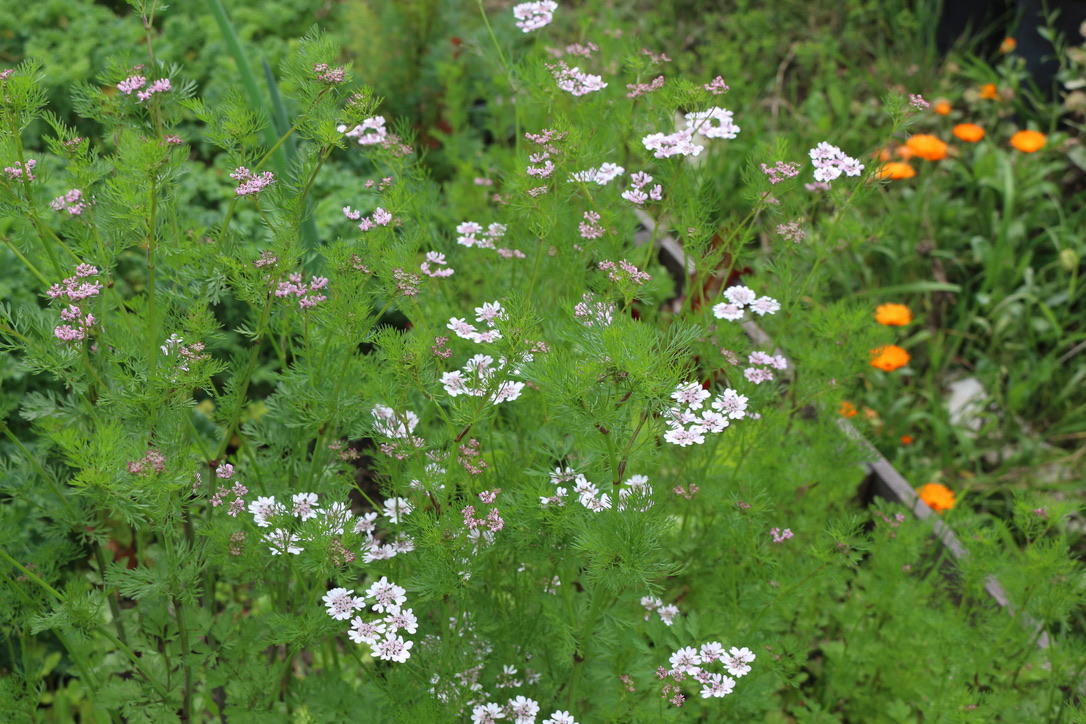 We plant cilantro, kale, lettuce, strawberries, and herbs in our vegetable garden. Our kale salad is a favorite dish for any gathering. The flowers are pretty too. This area sits between a detached garage, another fruit trellis, and on the south, a 15-foot-tall hedge.
We built many berms to catch rainwater. Our area receives an average of 17 inches per year, less than 3 inches during a drought, and more than 30 inches in wet years. When it comes, the rain falls in torrents—1 to 3 inches a day—so we capture as much as we can. To make good use of the captured water, we plant a lot of trees, bushes, and wildflowers. Our garden attracts a lot of birds and butterflies.
In the last five years, we have rarely had to turn on the portable air conditioner in summer, as the trees in the garden keep our house cool. We also don't have a heater. We bought orchids from the grocery store, and they flower again every year. We leave the indoor orchids on our kitchen window and outdoors in the courtyard. Whenever they flower, we put them on our front porch, where we can view them from our dining table.
My husband built many trellises from recycled materials. These are good father-and-son projects. Once vines climb over, they look beautiful.
Have a garden you'd like to share?
Have photos to share? We'd love to see your garden, a particular collection of plants you love, or a wonderful garden you had the chance to visit!
To submit, send 5-10 photos to [email protected] along with some information about the plants in the pictures and where you took the photos. We'd love to hear where you are located, how long you've been gardening, successes you are proud of, failures you learned from, hopes for the future, favorite plants, or funny stories from your garden.
If you want to send photos in separate emails to the GPOD email box that is just fine.
Have a mobile phone? Tag your photos on Facebook, Instagram or Twitter with #FineGardening!
You don't have to be a professional garden photographer – check out our garden photography tips!
Do you receive the GPOD by email yet? Sign up here.