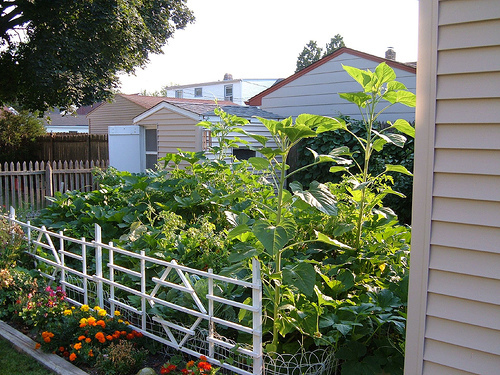 "Sustainable gardening" is a cool term if I've ever heard one. It sounds edgy in an incredibly responsible sort of way. In suburban farmer (that would be me) speak it's: "Do no evil."
Sustainable gardening is a term that has no technical definition. It's the concept of using gardening practices that cause no harm to the earth and its inhabitants while attempting to actually enhance it. Words that define "sustain" and "sustenance" are support, preserve, keep alive, maintain, reinforce, and nourishment. These words help paint the picture. By practicing sustainable gardening, you practice good environmental stewardship. Do no evil; that's it.
Don't take this to mean that I don't occasionally break out the pesticidal or fungal frame hammer if need be. But, how often do I really need to? I'll be honest – not so much. One of my biggest battles is with powdery mildew on roses or vine crops. Roses are the one plant I'll quietly break out the secret poison stash for once in a while.
One of the reasons that I don't have to carry around too big of a stick on my suburban farm is because it's a backyard. Quite frankly, our little gardens very often fly under the radar of the masses as far as pests are concerned. There are a certain couple of weeks in the spring when the aphids converge a bit as well as other interesting (read: infuriating) little plant suckers. But, because we aren't growing large acreages of crops, the pest number is usually quite small. This doesn't mean they don't show up, just that they're on the easy side to control.
The other reason it's easy to control pests, (creatures, funguses or otherwise) is due to sustainable gardening. So, how do you do no evil? There are some natural methods that have worked for gardeners and farmers for centuries.
Sustainable Gardening and Farming Practices
If you ask around, you'll be able to incorporate other ideas such as physical barriers for pests. The point is, it's simple to practice sustainable gardening and works so well, you'll wonder how you ever bought into the idea that you need buckets of Roundup and gallons of Miracle-Gro to have a terrific garden in the first place. Plus you get to wear the uber-cool title of "sustainable gardener" to boot.