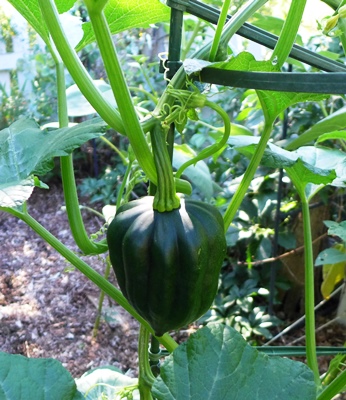 I've been surprised by my vegetable gardens over the last few years. Most of those surprises came in the form of unexpected insect damage or plant diseases that cropped up overnight.
But this year, there was a nice surprise awaiting me in the spring. A squash plant sprouted on its own in the dirt path behind the vegetable patch, and I transplanted it into the garden.
I recognized it as a squash start, but didn't know what it would become. I thought it might be a zucchini from a long-forgotten fruit. I just hoped it wasn't some wild gourd that would eventually take over the garden.
As the vine started to grow, I propped it up in a tomato cage. If it started to devour my precious tomato plants, it would get ripped from the ground by its roots.
The tall vine grew long tendrils and then started to put out large and beautiful blossoms that drew bees to the vegetable garden to pollinate other plants. As the flowers grew, I saw the squash that would take shape.
Acorn squashes are winter squashes and they have a distinctive shape. They can't be confused with a yellow summer squash or zucchini. They don't look like any other winter squash either.
It was a mystery as to how that squash seed planted itself, sprouted and started to grow right in the dirt path with no special soil or loving care. In fact, I had never planted acorn squash before.
Then I was reminded in winter I place seeds from supper-time vegetables on the fence as a cold-weather treat for the squirrels. One of those squirrels carelessly tossed a seed from the fence and planted it for me.
I know many gardeners dislike these furry critters because they eat ripe tomatoes or cause other chaos in the garden, although I've never felt that way. This isn't the first time I've had a good surprise from a neighborhood squirrel. I enjoy feeding them throughout the year, and now it looks like they're going to feed me, too.
What kinds of surprises have you found in your vegetable garden?