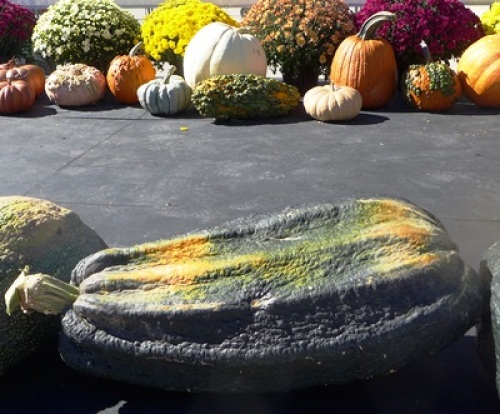 Giant marrows are used to being upstaged by giant pumpkins at vegetable competitions across the country (and around the world). These humongous summer squashes (Cucurbita pepo) have always been a part of horticultural exhibitions in the U.K., but they're finally getting some attention in the U.S., too.
Marrows are as easy to grow as ordinary zucchini, as long as gardeners start with the right seeds. These are the special seeds meant to grow a summer squash that weighs between 50-100 pounds in about 75 days.
While the squashes are similar to zucchini, these vegetables grow on long vines and have deep ridges. If you have enough space in your vegetable garden, you can plant and grow one next summer.
To reach their full potential, start marrow seeds indoors to give them a head start on the season. Then transplant into well-amended soil in the garden. It's a good idea to place planks or boards through the garden to use as walkways to keep from compressing the soil and harming the tender root system.
Another giant marrow growing tip is to allow three or fewer marrows to grow along the main stem of the plant. High-nitrogen liquid fertilizer, in weekly applications, can help pump up the squashes to put on the weight.
Giant vegetable growers tend their marrows with care to make sure they're as sheltered from wind and other weather problems as they can be. Other problems that can ruin a potential winner include the same plant diseases that affect ordinary squashes.
If you've had powdery mildew show up on the leaves of your squash plants, you know this disease can quickly spread to the whole plant. Powdery mildew is a fungal disease that can cause plants to stop growing. Mice, squirrels and racoons can also be hazardous to a marrow's health.
Marrows that do reach competition weight are heavy and need an extra hand or two to cut them from their vines.
At giant vegetable contests, people typically ask if giant marrows are any good to eat, and the answer is yes. Just because they're huge doesn't mean they aren't delicious. Just be sure to save the seeds for the next season of competition.