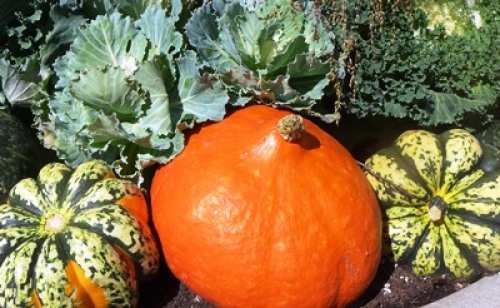 If you weren't able to plant and grow any winter squashes in your vegetable garden this season, you can relax. Farmers have you covered.
What's so great about winter squashes? Everything! These fruits have a low calorie count, but they're high in fiber. They're loaded with beta-carotene and other important vitamins and minerals. And, they're delicious whether roasted, stuffed, simmered or sautéed. The seeds are perfect for roasting, too.
The market bins are bursting with mature winter squashes to enjoy now and store for later. These are the colorful squashes with a tough outer skin and nutritious inside. When shopping for a winter squash, be sure to avoid any that have soft spots or are too lightweight for their size.
Winter squash varieties will store for an extended period of time when kept out of the sun and in a cool, dry space.
Here are eight great winter squashes in order of size – from biggest to smallest – and some tips for putting them to use in your kitchen:
Blue Hubbard is a huge blue-gray winter squash with a lot to offer. Some people aren't sure how to prepare such a monster, but these are especially tasty when cut in half lengthwise and baked for 45-60 minutes at 375 degrees, flesh side down in 1/2 inch of water. The soft insides then make for a delicious side dish or the start for squash soup. When pureed, the flesh is so sweet it can replace pumpkin for pies.
Butternut squashes have a long neck connected to a rounded bottom. These squashes can be tough to cut, but they get soft quickly in a microwave. Use a knife to cut vent holes in the skin and microwave until the skin is slightly soft. Remove the skin and cut into rings or chunks to use the bright-orange flesh in casseroles, soups, breads or muffins.
Spaghetti squashes are more popular now than ever before because they're a terrific substitute for regular pasta. These winter squashes have a nice smooth skin with an interesting texture inside. The easiest way to prepare a spaghetti squash is to cut it in half lengthwise, scoop out the seeds and bake it cut side down for 30-40 minutes in a 450-degree oven. After it cools, scrape the strands of squash with a spoon and top with your favorite spaghetti sauce.
Acorn is known for its nut-like shape and dark green outer skin. Choose acorn squashes with a deep yellow grow spot that shows where it grew close to the soil. Acorn squashes are good for cutting in half, stuffing and baking.
Delicata is a favorite winter squash because of its colorful yellow and green markings and oblong shape. Delicata's thin skin makes for easier slicing, dicing and roasting with olive oil and a generous sprinkling of herbs.
Red Kuri is the winter squash that shaped like a large onion. These red winter squashes are small, but they pack a lot of flavor. They make for delicious soups when roasted and pureed until silky smooth. Fancy restaurants often serve the soup in small pumpkins or other cleaned gourds as a seasonal bowl.
Carnival squashes are small speckled squashes that are a cross between Acorn and Sweet Dumpling. They have a slight acorn shape and can be orange, yellow and green with speckles. The flesh is yellow with a mlld taste that pairs well with maple syrup.
Sweet Dumpling is as delicious as it sounds. These small-size squashes are a good size for cutting in half and baking. They make cute side dishes when served individually with butter and brown sugar.