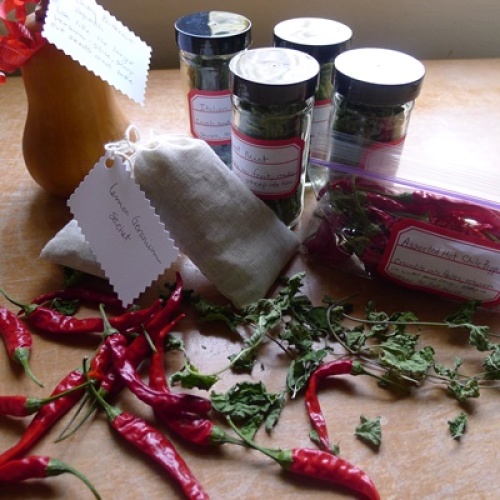 There certainly is no shortage of gifts to give gardeners during the holidays. There are gardening books, tools, seeds, gloves and garden art galore for the gardener in your life.
Vegetable gardeners are at an advantage when it comes to giving gifts, too. If you're stuck for a last-minute gift for the party's hostess, neighbors or a gift exchange, just take a look at the garden goods you saved from the season.
Here are a few ideas to inspire you for harvesting gifts from the garden:
Fill an empty spice jar with dried basil and attach a favorite recipe or instructions for crushing and stirring into tomato sauces.
Package whole dried hot chile peppers in a clear container or baggie. Peppers can be crumbled into flakes, processed into spice, rehydrated in water or steeped in vinegar.
Dried sweet mint makes a lovely tea. Package in fill-your-own tea bags or buy a special tea infuser to create a gift box. Dried mint could also be packaged in a small tin to sprinkle on fresh or canned fruit or to add to homemade tabbouleh salad.
Lemon verbena is another versatile dried herb for gift giving. The dried leaves can be packaged in several different ways, with some for steeping into tea and others for adding lemony flavor to vegetarian recipes.
Dried garlic chives can be snipped with scissors to the right size for adding a slight onion flavor to soups, dips and cheeseballs.
Home-grown and cured winter squashes are an unusual edible gift. Arrange several in a basket, add a ribbon and recipes.
For a fragrant, but non-edible gift, use the dried leaves of citronella (lemon) geraniums to make simple sachets. Package in your own small cloth bags or make simple cheesecloth bundles tied at the top.
What ideas do you have for easy gifts to give from your garden? Please share them here.