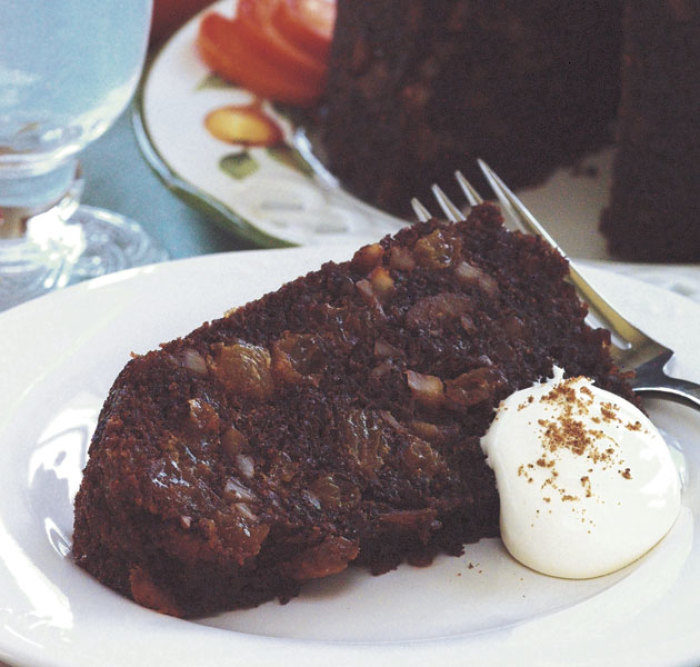 Ingredients:
1-1/2 cups sugar
1-1/2 cups flour
1-1/2 tsp. cinnamon
1/2 tsp. nutmeg
1 Tbs. baking soda
3 Tbs. hot water
1-1/2 cups persimmon pulp, preferably 'Hachiya'
2 large eggs
1-1/2 cups chopped golden raisins
1 cup coarsely chopped almonds
About 1/3 cup brandy
2 tsp. vanilla
1-1/2 tsp. lemon juice
3/4 cup butter, melted and cooled
10 servings
I make this recipe, adapted from one in the 1987 Best of Sunset cookbook, every year for the holidays. I sometimes cut a piece of leftover pudding, put it in a dish, and microwave it briefly. Vanilla ice cream on top. Instant gratification.
In a medium bowl, mix the sugar, flour, cinnamon, and nutmeg.
In a large bowl, stir the baking soda into the hot water, then add the persimmon pulp and eggs and mix well. Add the sugar mixture, raisins, nuts, brandy, vanilla, lemon juice, and butter. Stir until evenly mixed.
Scrape the batter into a buttered 9- or 10-cup pudding mold; cover tightly. (If you don't have a pudding mold, use a deep crockery bowl of similar capacity. Cover the batter with buttered parchment, then foil. Tie securely with kitchen twine.) Place the mold on a rack in a deep pan. Add 1 inch of water to the pan, cover, and steam over medium heat until the pudding feels firm, about 2-1⁄4 hours. Add boiling water as needed to maintain the 1-inch depth.
Uncover the pudding and let it cool on a rack for about 15 minutes. Invert onto a dish, and lift off the mold. Serve warm with hard sauce, whipped cream, or vanilla ice cream.
Note: To store the pudding, let it cool completely, wrap it in cheesecloth, and pour a few tablespoons of brandy over it. Wrap it tightly in foil. Refrigerate for up to 2 weeks, or freeze. To reheat, un­wrap the pudding, remove the cheesecloth, rewrap in foil, and steam on a rack over boiling water until hot, about 45 minutes.
Recipe by Joe Quierolo
December 1999
from issue #24