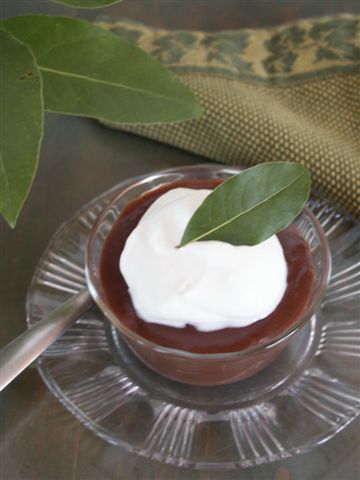 Ingredients:
2 cups half-and-half cream
3 large fresh bay leaves or 2 dried bay leaves
3 tablespoons cornstarch
2/3 cup sugar
2 pinches salt
1/4 cup unsweetened cocoa
1/2 cup milk
3 ounces bittersweet or semisweet chocolate, cut into small pieces
1/2 teaspoon pure vanilla extract
Serves 6
This chocolate-rich pudding is redolent with the aroma of bay that lingers on your palate. Fresh bay leaves give the pudding a wonderful fragrance that you don't get when you use dried bay leaves. I generally harvest bay leaves and keep them in a plastic bag that is not sealed, on the door of the fridge for up to three months. I believe they have a better flavor if they are harvested a day or two ahead of when they are to be used; this way I always have them on hand.
Most pudding is served cold, but I prefer mine at cool room temperature so you really taste the flavors. This one is delicious even before it is chilled. This is also delectable when prepared with a handful of any of the mints—orange mint, spearmint, or peppermint.
Heat the half-and-half cream with the bay leaves in a heavy-bottomed saucepan over medium heat. When the cream starts to bubble around the edges of the pan, remove from heat and cover. Let stand for 30 minutes.
After the bay has infused in the cream for nearly 30 minutes, combine the cornstarch, sugar, salt, and cocoa in a bowl and add the milk, whisk the contents together.
Pour the mixture into the warm cream and place over moderate heat. Continue cooking and whisking as the pudding thickens.
When the pudding begins to bubble and come to a boil, stir and boil for 1 minute. Remove the pan from heat and whisk in the chocolate pieces until they are melted. Add the vanilla and stir well. Carefully remove the bay leaves and pour the pudding into six ramekins or custard cups.
Place the custard cups on a plate or pan and allow them to come to room temperature. Refrigerate until chilled; at least 30 to 45 minutes. Serve at cool room temperature and garnish with whipped cream if desired.