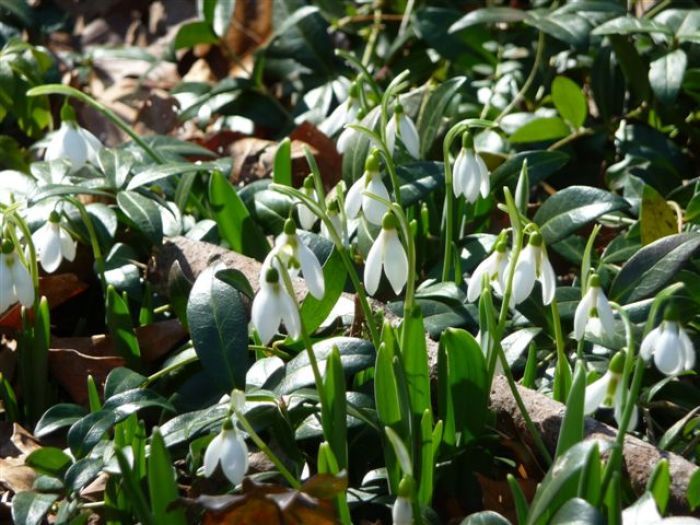 Well, March came in like a lion; hopefully it will go out like a lamb. Spring is in the air and the warmer days, sunshine and longer hours of daylight have lifted everyone's spirits. We left February with a day length of 11 hours and 11 minutes and by the end of this month our day light hours will be 12 hours and 40 minutes—that is an increase of 1 hour and 29 minutes in just one month. Yahoo for us gardeners!
My garden earth is way too soggy to even think about walking in, so I am trying to be patient. Last week, we had wind gusts of over 50 mph, so I have spent many hours just walking about the yard picking up sticks and dragging limbs off into the woods. There are many big limbs and trees down that need to be worked on with a chainsaw. I need to clean up all of the stems and weeds that I left standing for bird cover and feed in many of the gardens around the house. Now is the time to remove dead and damaged plant material, uncover emerging new growth.
I have a friend, Deborah Hall, who has one of the greenest thumbs I know. Her woodland garden is incredible and always has something in bloom year round. I went up to see her witch hazels in bloom (pictured here) this week. Three sure first signs of spring for me (besides the increase in day length) are the blooming of the Hamamelis, daffodil foliage poking through the earth and visibly growing taller daily, and the charming clusters of snow drops. Also, some cultivars of Hellebores are blooming, I see bits of chickweed spreading forth, the tree buds are noticeably swelling and the birdsong has audibly changed. I am posting a few photos of these harbingers of spring for you to enjoy. Have a great weekend and get outside to see spring in your garden.
Our sister site FineGardening.com is hosting a Spring Awakenings photo challenge. Post a photo by April 15. The creator of the winning entry will be awarded a $100 gift certificate from White Flower Farm.