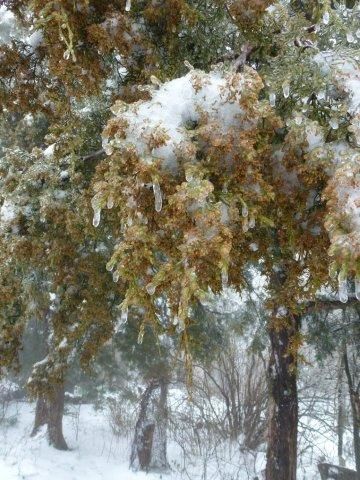 The harbingers of spring have popped out and are verdant green.  We are celebrating spring–the days are growing longer, and somewhat warmer–spring is in the air. According to the calendar and gardening almanacs, spring has offiicially arrived, however, somedays don't quite feel that way when a chill wind blows and we are still carrying in loads of firewood to keep the woodstove cranking.
This birdsongs have changed in the past few weeks, wildlife and domestic animals are acting up, and many are birthing. The daffodils have been showing out and now the forsythia and redbud are popping. Chives, catnip, parsley, sorrel, arugula, chervil and other early, cool weather herbs are leafed out. Wild weeds like dandelion, chickweed, henbit, dead nettle, nettle are green and some are blooming. Spring has sprung and then, Mother Nature snowed on us–we awoke to about about 4+-inches this morning–everything is covered with a thick blanket of snow.
No worries though, the plants are not harmed. Rather they are covered with an insulative blanket that protects them from dessciating winds and is soaking the earth with blessed and welcome moisture. Snow is often referred to as "poor man's nitrogen". When snow and rain fall through the atmosphere, they gather nitrogen. If the ground is frozen a lot of these nutrients run off because they cannot soak in. According to the www.greenmountaingarlic.com Web site, "Spring snow, on the other hand falls on ground that is not frozen and leaches nutrients (including nitrogen) and moisture into the soil, thus the reference as "Poor Man's Fertilizer". "
So do not bemoan our last snow of the season; enjoy it. And celebrate the awakening of the earth and the gardening season ahead.
This past week, I taught a Folk School class at the Ozark Folk Center: Herbs, Hands-On! It was a great, fun bunch from as faraway as California and we spent time botanizing, harvesting edible wild plants and domestic herbs. We brought them inside to press, journal, make cards, cook, dry and preserve, as well as start root cuttings and sow seeds. They inspired me as much as I hope I did them. What better way to start spring than with a group of like-minded gardening enthusiasts?!