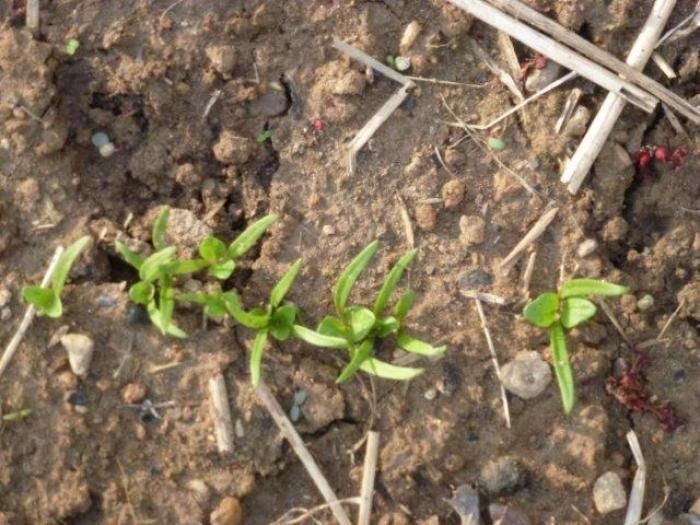 Ahhh spring–the awakening of the earth–and at last, this gardener can happily get her hands into the soil. Everyday is another delight as I walkabout and see what is popping up or slowly emerging. The progress from sprout to leaves, then flower engages me with each harbinger of spring. Some days, I can literally see plants grow more than an inch, or even two, from morning to evening. 
This spring has been cold, though there have been warm days, when I can peel off layers of clothes. We have had a fair amount of rain and lots of cool, grey days. The green growing things do not mind, so neither should we gardeners. Today I am bundled up in three layers, however I am going to set out to transplant, since rain is in the forecast for the next 4 to 5 days. So it is perfect to transplant the starts that are feeling cramped in their marketpacks.
There are still some tender annuals in the coldframe where they are hardening off. Most of the flats of seedlings are out of the coldframe and awaiting transplanting. Amendments have already been worked into the soil and much of the garden is already mulched so the top layer wouldn't get dried out, crusty and hard. I just need to pull back the mulch, dig a hole, then turn the plant from its pot, carefully tickle its roots, and then place it in the prepared hole and gently replace the soil around the loosened rootball. I find that one of the most important things is to water the new transplants in as soon as possible. Give them a good drink; (don't drown small babies!) and then come back and give them another drink so they are well-soaked. Tuck mulch around them–not too close to the stems–allow some breathing space.
One of the hardest things for me–and many others–is to wait to put out the tomatoes, peppers, eggplant, and basil. These plants should not be put out until well after your last frost date. They will not grow in the cool weather; in fact basil, will just sit there and pout. So be patient and wait until the soil and the weather has warmed sufficiently for these tenders. If you grow or buy them in advance, they will need to be kept in a greenhouse or coldframe until it is warm enough to put them out.
Click on the pix above to enlarge and read captions; take a walk with me and see what is happening in my vegetable garden.