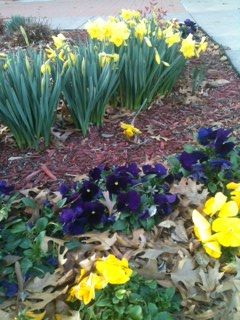 Yesterday, I left my Maryland home, where it was rainy and grey and about 36 degrees F, wearing a waterproof, lined coat, gloves and scarf. In my zone 7 garden, my snowdrops are blooming, the maples are budded and the daffodils are showing their green foliage–about 2- to 3-inches in height. My flight stopped first in Detroit where the ground from above was white, since they have a covering of snow there. Next stop was Saint Louis, Missouri and we landed amongst swirling snow, they were having a snow squall just for us, so we had to de-ice. Final destination, Little Rock, we descended over brown fields and trees that showed new green growth. Spring has sprung here!
My gardening friend, Tina Marie Wilcox, picked me up in a double-cab, pick-up truck pulling a trailer full of plants and set-up for a booth at the Arkansas River Valley Lawn & Garden Show in Fort Smith. As we drove down the highway, I noted how the daffodils are in full bloom, pansy displays abound and trees are budded and starting to leaf out. When we stopped for lunch, I had to take off my heavy sweater and traveled the rest of the trip in my shirtsleeves. Although we haven't yet reached the vernal equinox, which is March 20 this year, spring is certainly in the air.
And what better way to spend it? If you can't be in the garden (mine was much too wet to muck about in), why not visit one of the garden shows happening across the nation? The Fort Smith show really isn't very big, however it is full of local folks and we all have the same thing in common: gardening. The amazing thing about this show is that it is put on by the Arkansas River Valley Master Gardeners–and what a group they are. I have enjoyed working with Master Gardeners all over the U.S., however this is one of the most enterprising, hardworking and fun groups I know. It is like coming back to see old friends–and not only that–they feed all of the vendors during the show. I love that they arrive with pots of soup, chili, stew, salads and sandwiches, not to mention dessert!
Today is the set-up day and as trucks and trailers and vans arrive, the ARVMG meet the vehicles and cheerfully help us unload. It is fun to walkabout and see all the vendors setting up–sort of like old home week. I already put aside a wonderful planter, which is a foliate face planted with succulents and cacti. There is everything here from small display gardens, outdoor buildings, rainbarrels, garden ornamentation, pottery, garden hats and tools, books, a flower show, local garden-related orgnizations and businesses, and more.
Besides selling and talking about herbs, I will be giving lectures along with a number of other featured speakers, who will speak on subjects from propagation to hypertufa. You can go online www.fsgardenshow.com and look at the schedule. I will be speaking on Saturday: Sow Your Own Herbs; Sunday: Herbal Blends and with Tina Marie Wilcox on Elder, Herb of the Year 2013. So come on out, get inspired and celebrate the beginning of a new gardening season!
Next stop is the Ozark Folk Center where I will teach a three-day class "Herbs Hands-On!" for the folkschool session this year and then the Medicinal Herb Seminar and Hike with Rosemary Gladstar and Steven Foster. Check out these events at www.ozarkfolkcenter.com.