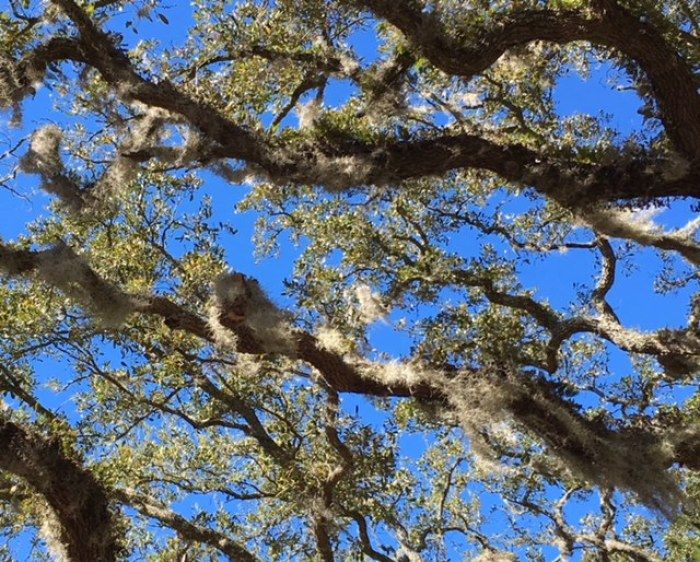 Today celebrates the vernal equinox–the first day of spring. We gardeners rejoice that we are able to start sowing seed and soon will have our hands in the garden earth. For some of us, in warmer climes we are enjoying the harbingers of spring in their full regalia, while others in the northern states are looking forward to spring as the winter storms still continue with howling winds, rain, snow, sleet and even hail. Do not despair–good things come to those who wait. Hopefully these springtime images will help you to imagine warmer weather and your gardens to come!
Lucky for me that my sister and her husband retired to Pawley's Island–these photos were taken on a recent visit to Brookgreen Gardens in Murrell's Inlet, South Carolina–we make it a point to visit these gardens whenever I go there. 
The Southern Live Oak trees at Brookgreen are ancient and they have a whole allee of them–they raise my spirit bumps every time that I see them. These Quercus virginiana remain evergreen or "live" throughout the winter. I think they are made even more beautiful from the hanging Spanish moss. Tillandsia usneoides (Spanish moss) is an epiphyte which grows on tropical and subtropical trees. I could hang out in this garden on one of the many garden benches for hours.
The Resurrection plant is so named because in cold weather and the heat of summer, it turns brown, dries up and appears to be dead… however when it rains it resurrects and turns green and stands up and gets lush and happy. There are many species of these poikilohydric plants, which can survive extreme drought.
Camellias can also grow into tree-sized specimens in southern climates–they cannot be grown in northern climates. The evergreen-leaved Camillia japonica comes in a huge selection of colors. Camellia blooms slightly resemble a rose, although there are no thorns and the foliage is evergreen; most of them have a much milder fragrance.
The bright pink and fuschia blossoms of the fringe bush are showin' out in the South this time of year. Loropetulem chinensis, sometimes called Chinese fringe bush, prefers acid soil and a sunny location–given that, it can grow over 10 feet tall–more like a fringe tree and is used in landscaping throughout the south.
Tulip magnolia is a deciduous shrub or small tree which blooms in shades of pinks and purples before the leaf buds open in early spring in the South. Magnolia liliiflora is allso called Magnus magnolia, purple, red or lily magnolia.
Fairly new to Brookgreen Gardens, is the monumental sculpture In the Mix created by Patrick Dougherty, who created this maze-like structure from saplings, sticks, vines and twigs. I found this sculpture to be totally awesome; it will be on exhibit for as long as it stands. https://www.brookgreen.org/events/patrick-dougherty-mi
Don't miss this garden if you are traveling in the south–it is amazing–and it houses the world's largest collection of sculptures of every size and medium. There is also a children's garden, Low-Country trail, labyrinth, Dinosaur exibit, zoo, lovely gift shop and cafe; plan to spend the day. Check out their events calendar before visiting to see what is going on. Wheelchairs and strollers available for use gratis.
https://www.brookgreen.org