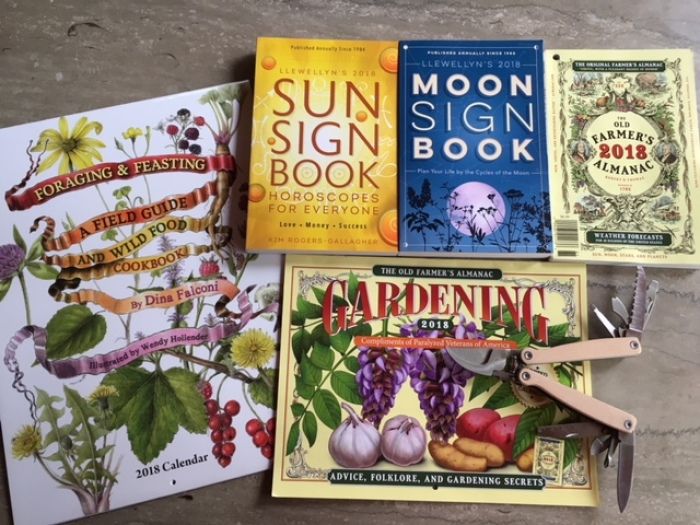 Here are a few gifts that I ask for every year– as well as a few new tools that I received this holiday season. These are items that I find essential to help me during the year, both in the garden and everyday.
Year-round tools: Llewellyn's Moon and Sun Sign Books; Old Farmer's Almanac and Gardening Calendar; Foraging and Feasting Calendar; headlamp, pruner/multi tool.
Llewellyn's Moon and Sun Sign Books I plant by the moon whenever I can–so these books are essential. They also contain gardening info and weather, economic and lunar forecasts and astrological forecasts for your sun sign. I pretty much look at the moon and sun sign books every morning and I especially pay attention to the moon sign book when planting. There's a Weekly Almanac with a guide to lunar gardening as well as good timing for all activities, planting guide and much more. (thanks cady!)

Old Farmer's Almanac The Old Farmer's Almanac was founded in 1792 and has been forecasting weather to farmers and gardeners ever since. Besides the monthly calendars which provide astrological info on the left page and all sorts of events from historical, celestial and religious on the right page, there is an entertaining farmer's calendar column as well. There is an assortment of articles throughout with facts, tidbits of info, recipes and more. (thanks zack!) www.almanac.com/shop

If it weren't for the Farmer's Almanac, I would not yet be aware that there will be NO full moon in February! Instead we are going to have two blue moons at the beginning of our calendar year! Two full moons in January and two full moons in March–both on the first and last days of these months. Blue moons are rare enough (hence the old adage "Once in a Blue Moon"), however two so close together is even rarer still!

Old Farmer's Almanac Gardening Calendar My mom always gives me a copy of The Old Farmer's Almanac Gardening Calendar which features colorful illustrations of vegetables, flowers and herbs and other garden-related themes interspersed with a bit of advice, folklore and gardening secrets. (thanks mom!)www.almanac.com/shop
Foraging and Feasting Calendar I use calendars–have one in my office, one in the kitchen and one in the bathroom. Helps me keep track of things in all aspects of my life. This year I bought Dina Falconi & Wendy Hollender's Foraging & Feasting Calendar for gifts and myself. The illustrations are from their book of the same name which is full of great info and recipes and Wendy's botancial illustrations are exquisitely detailed and realistic. www.botanicalartspress.com
Pocket Pruner Multi Tool This is one of my favorite holiday gifts–it is practical and useful–a pocket pruner with multi tools. Besides pruners, it features 12 tools from knife, can and bottle openers, awl, ruler, file, saw to various screwdrivers and wrenches.
The coolest thing about the pocket pruner multi tool is that it folds up neatly and compactly to really fit into my pocket. It is made from stainless steel with a beechwood handle, which I will oil when I complete this blog. www.kikkerland.com (thanks louanne & markus!)
Headlamp I have found that a headlamp is something that I cannot live without. It is handy in the summertime when you are harvesting a handful of herbs in the dark or walking down the driveway to the maillbox or in the cold weather when going out after dark to get another armful of firewood or taking down the recycling or trash. I take one in the car when traveling and there's one in my carry-on. The one shown is a simple basic one from Coleman (www.coleman.com)–I have another heavy duty one which has three different lights with a blinker and a laser. (thanks sharsie!)
What are your favorite gardening tools? Wishing y'all a Happy New Year full of good health and happiness, and a bountiful garden full of delicious things!